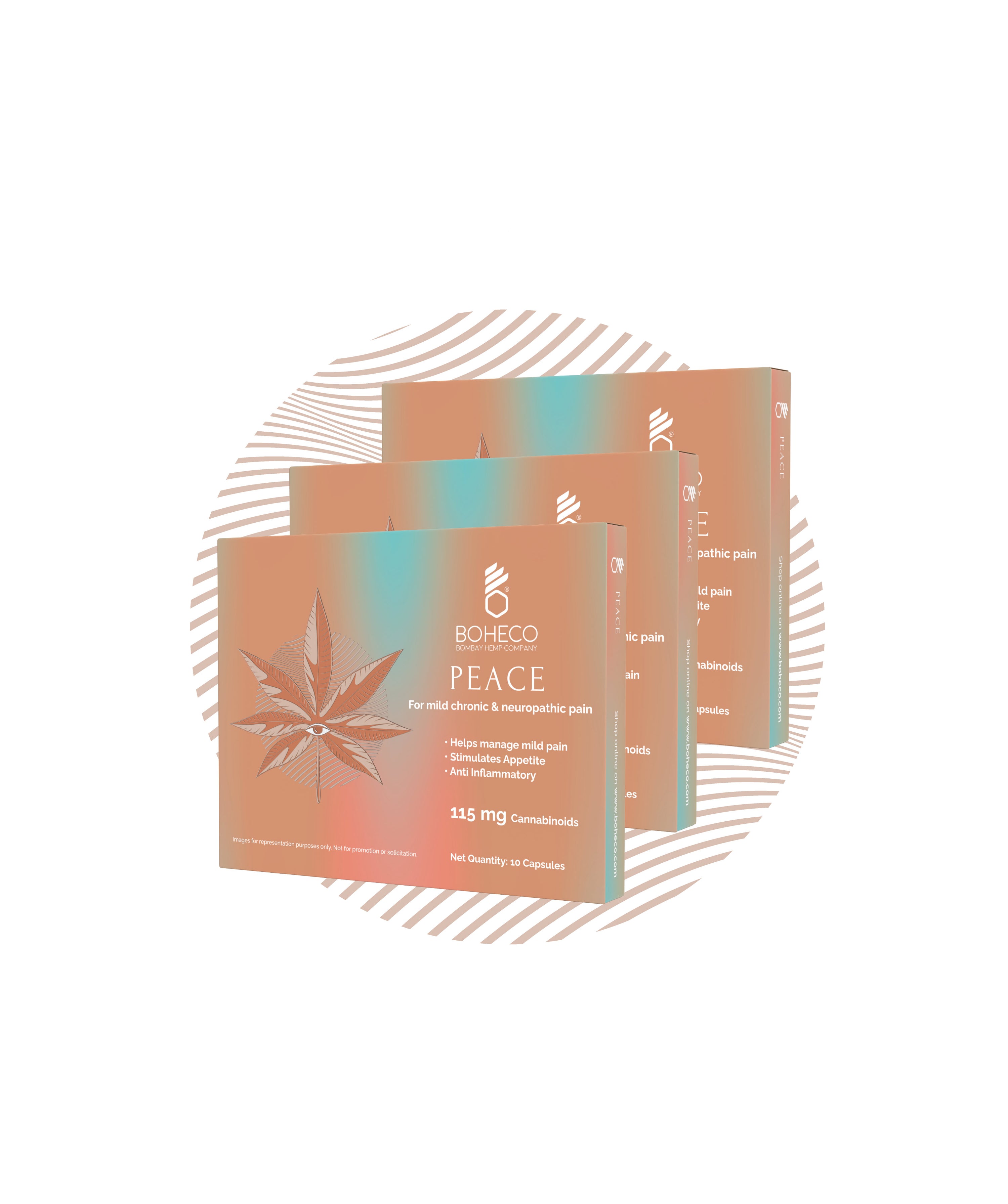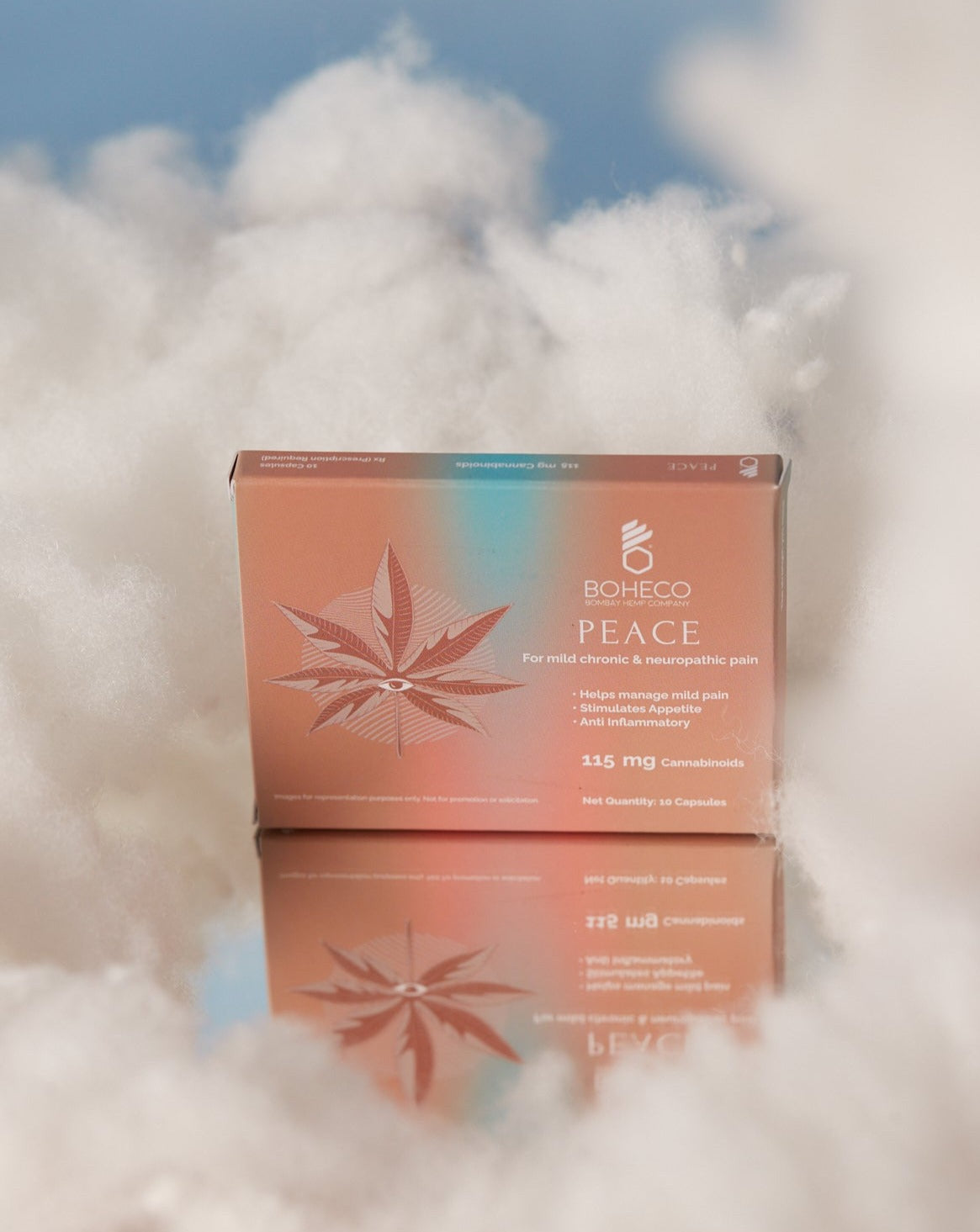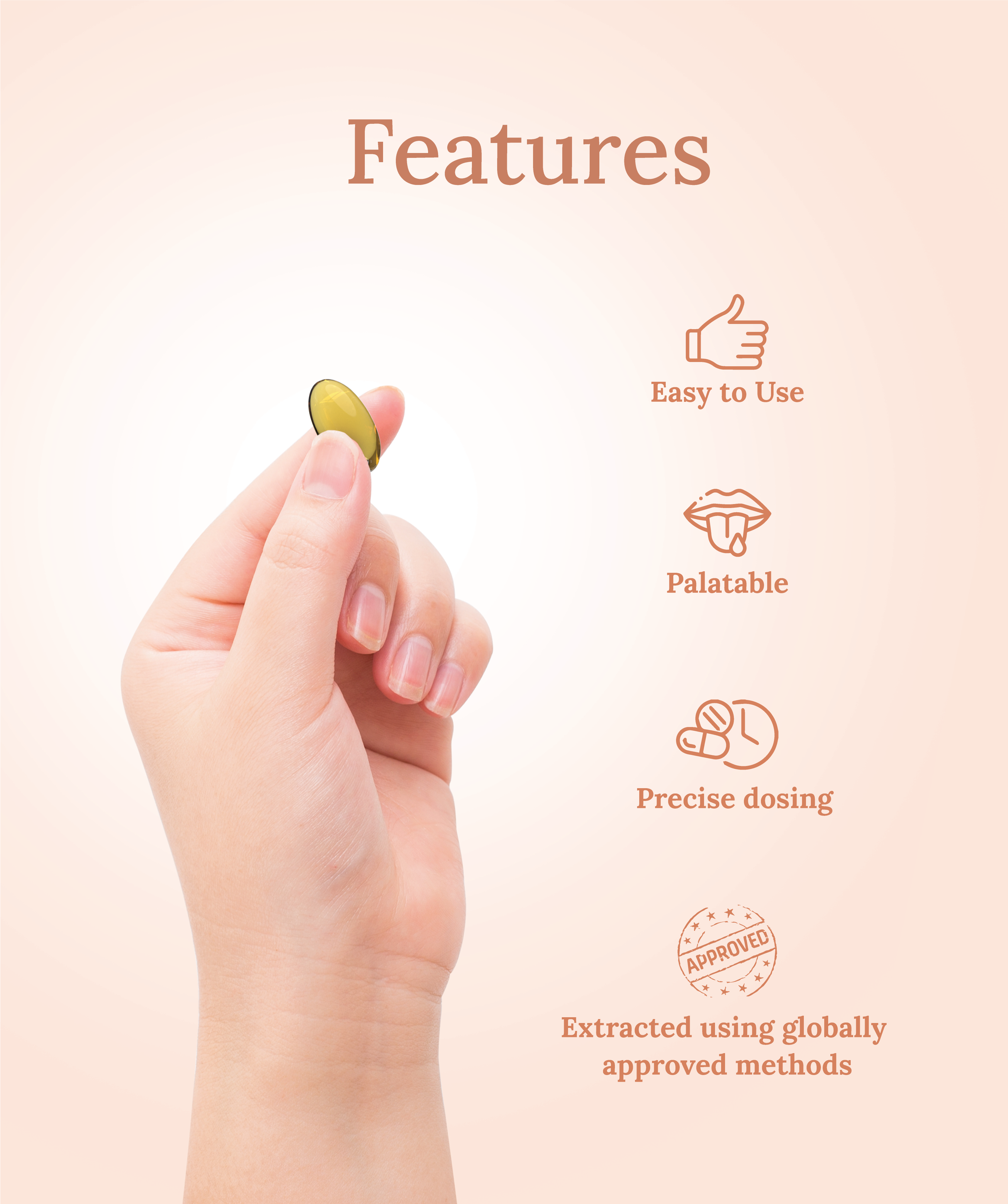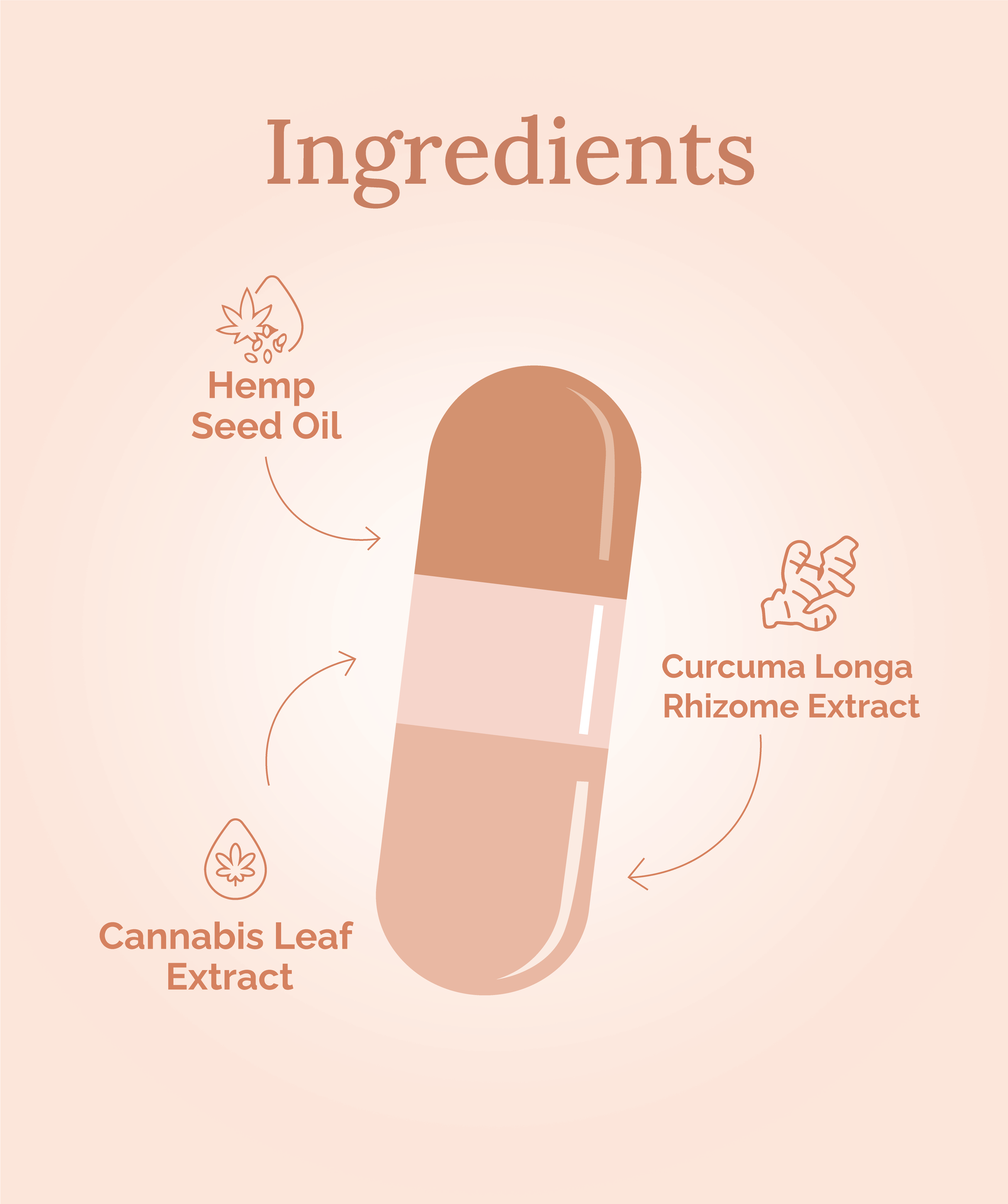 PEACE
New!
Mild Chronic Pain
30 Capsules (Pack of 3)
₹1,199
Regular price
(10% OFF)
MRP:
₹1,347
Inclusive of all Taxes (GST)
Subscription • Save
Description
Delivery Policy
Looking to include cannabis leaf-based medication to manage mild to moderate pain conditions, but unsure how to? Introducing PEACE Capsules, with the full spectrum of major and minor cannabinoids, now in an easy to consume, discreet and precise dose format - oil-based capsules.
Sourced from the fields of India, BOHECO PEACE capsules comprise of the full spectrum cannabis leaf extract with each capsule containing ~10 mg of major cannabinoids in a 1 : 1 ratio (~5mg CBD) along with other minor cannabinoids (CBG, CBN, etc.), which provides natural healing for symptomatic pain relief.
With precise dosing, perfect for people on-the-go, BOHECO PEACE capsules are an apt fit for you if you are suffering from various conditions which induce mild to moderate pain - menstrual cramps, muscle spasticity, post-surgery pain, backache, musculoskeletal pains, Fibromyalgia, mid- to moderate- Rheumatoid Arthritis and other similar conditions.
PEACE capsules also assist in improving overall Quality of Life, specifically in ailments where nausea, loss of appetite and significant lack of sleep due to pain are observed.
PAIN SCALE
11-Point Scale - "0" represents "no pain" and "10" represents the "most severe pain imaginable"
🩺 Disclaimer: This is a prescription based ayurvedic medicine. Please note, you will be required to either share a prescription (not older than 120 days from the date of issue) from a certified medical practitioner OR go through our internal consultation process.
We want you to get started on your journey as soon as possible! So, we will try our best to dispatch your order within 48 hours! Appreciate your patience.

Plant-Based

Non Toxic

No Additives

Non-GMO

Cruelty Free

Top Quality Trusted Products

Good Manufacturing Practices

Rooted in Ayurveda
BENEFITS
Nerve pain, also known as neuropathy, arises when nerves become damaged, and it is often associated with disease conditions like diabetes, arthritis, poor blood circulation, accidents, or surgeries. Damaged nerves often lead to reactive and over-responsive neurons which can lead to the development of painful nerve endings. Major cannabinoids such as CBD work with the body's natural physiology and activate the CB1 and CB2 receptors which regulate neurotransmitters and the central nervous system, thereby mitigating pain. Cannabinoids are also known to stimulate the endorphin system which also helps reduce perception of pain, making it feel less intense.
Inflammation is a sign that the immune system is imbalanced. This usually occurs in the event when the body goes through trauma such as muscle sprains or joint inflammation unlike in cases of chronic pain conditions. Cannabinoids such as CBD, when introduced into the human body, binds with the CB2 receptors present on immune cells, thereby reducing inflammation and strengthening immunity. The synergistic effect of curcumin, derived from turmeric, along with cannabinoids further boosts immune response, thus reducing inflammation.
Cannabis has been used for centuries as a sleeping aid. Even individuals suffering from PTSD and insomnia have turned to cannabis as a natural option. The main benefits of cannabis as a sleeping aid are attributed to anti-anxiety and analgesic effects. The hypothesis is that cannabis reduces the amount of REM sleep which is when the mind is dreaming. Deep sleep is different from REM sleep and is responsible for the most restorative sleep. Deep sleep is known to accelerate the repair and restoration of the body, which helps improve overall Quality of Life.
Phyto-cannabinoids, are known to bind with the CB1 receptor, leading to the release of a hormone called ghrelin in the stomach. Ghrelin is known as the hunger hormone, as it stimulates and increases appetite. 
Cannabinoids such as CBD bind with the relevant receptors in the brain as well as the gastrointestinal tract (GI Tract) and suppress the feeling of nausea and vomiting. Nausea and vomiting occur due to the activation of receptors in two places - the brain and the GI Tract. CB1 agonists have shown evidence of suppressing the feeling of nausea and vomiting in patients by binding to CB1 receptors. The anti-nausea/anti-emetic effects of CBD may be mediated by indirect activation of somatodendritic 5-HT1A receptors in the dorsal raphe nucleus; activation of these auto-receptors reduces the release of 5-HT in terminal forebrain regions. 
The endocannabinoid anandamide (AEA), which is produced by the body, is responsible for mitigating feelings of anxiety and depression by binding with the CB1 receptor. As its lifespan is short, phytocannabinoids such as CBD may support the gap left by the under-secretion or degradation of AEA, thereby helping improve mood.
HOW TO USE
1 capsule twice a day after meals. It is advised to begin with a low dose, as the dosage may vary basis individual physiology and diagnosis. To determine the proper dose, it is advisable to follow your doctor's recommendation.
Vijaya* Leaf Extract, Curcuma Longa Rhizome Extract, Vijaya* Seed Oil
*Vijaya - Cannabis Sativa Linn
In the true nature of Ayurvedic formulas- it shows efficacy after disciplined and routine usage. Rooted in the Ayurvedic philosophy, we have provided you with a product that includes cannabis in its natural form with the full spectrum of (plant-based) Phyto-cannabinoids, that allows for sustained healing and well-being.
Keep the bottle in a cool, dry place away from sunlight.
1. NOT RECOMMENDED FOR PREGNANT OR BREAST-FEEDING WOMEN.
2. PLEASE STUDY THE PRODUCT AND INGREDIENTS CAREFULLY. DISCONTINUE IF YOU HAVE AN ALLERGIC REACTION WHEN CONSUMING.
3. PLEASE CONSULT A DOCTOR IF YOU ARE SUFFERING FROM HEART CONDITIONS BEFORE CONSUMING OR ARE UNDER ANY OTHER FORM OF MEDICATION/TREATMENT BEFORE CONSUMING.
4. THIS MEDICINE SHOULD BE TAKEN ONLY AFTER A MEAL.
5. DO NOT CONSUME WHILE UNDER THE INFLUENCE OF ALCOHOL. NOT TO BE CONSUMED BY CHILDREN UNDER 18 YEARS OF AGE.
6. DO NOT CONSUME WHILE DRIVING/RIDING OR OPERATING MACHINERY.
Cannabinoids X Endocannabinoid System
Cannabinoids are natural compounds found in the leaves & flowers/bud of the cannabis plant. CBD (Cannabidiol) is one of the most studied and recognized chemical compound found within the vast profile of cannabinoids.

The Endocannabinoid System (ECS) is present in every human biological system. ECS is a cell signalling system comprised of molecules that act as neurotransmitters (CB1 and CB2 receptors) spread across the human body. Some of the processes this cell signalling system is responsible for are mood, inflammation, immunity, pain, stress, sleep, and appetite.
Phyto-cannabinoids bind with the CB1 and CB2 receptors found within the ECS. This interaction helps simulate the cell signalling system and aid regulation of the mentioned symptoms.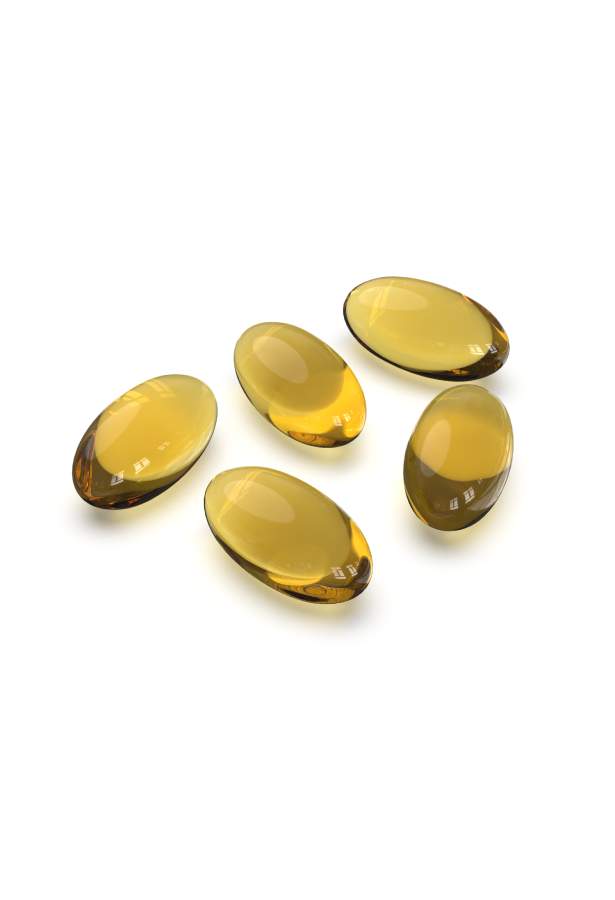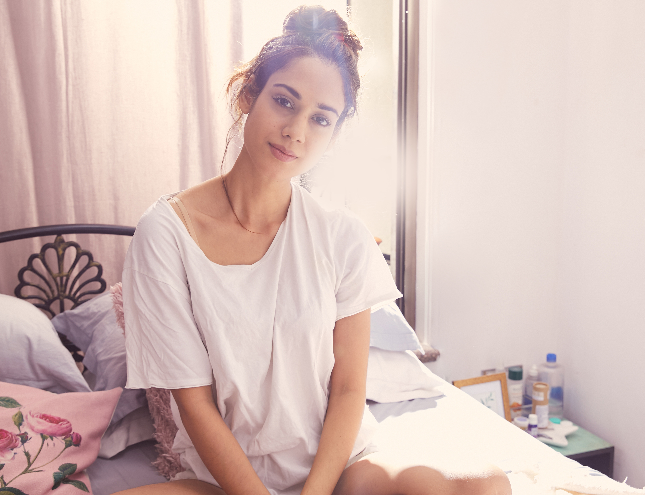 Our Cannabis leaf-based Health and Wellness Range is infused with full-spectrum Cannabis leaf extract. Backed by science and formulated by medical professionals, our proprietary ayurvedic offerings are rich in a variety of cannabinoids and other herbs which provide a targeted solution for your unique health and wellness needs. This range consists of various topical and prescription-based remedies for symptomatic relief through natural treatment.
enables sleep
this seems to calm me and relax and fall asleep. Thought it is not deep sleep, i find it relaxing to an extent
Super!
Super Healing!
I had RLS and after 1 day's dose...no more trouble in sleeping and no more RLS
Thank You Boheco
Thanks to the consulting Doctor
Thanks to Edwina for the support
FREQUENTLY ASKED QUESTIONS
What do BOHECO PEACE capsules contain?
Total Cannabis Leaf Extract (CLE) - 16 mg per capsule or 160 mg per pack (10 capsules)

Total - 5:5 mg per capsule | 50:50 mg per pack (10 capsules)

What is the difference between PEACE capsules and PEACE+ tincture?
PEACE capsules and PEACE+ tincture differ in concentrations of the major cannabinoids. BOHECO PEACE capsule has an ~1:1 ratio of these cannabinoids (~5 mg : ~5 mg) per capsule and other minor cannabinoids, while PEACE+ tincture offers a ~1:2 ratio of major cannabinoids per ml (~10 mg CBD). PEACE capsules, as the name suggests, are available in a precisely dosed capsule while the tincture is a sublingually consumed oil.
What is the best time to consume BOHECO PEACE Capsules?
PEACE Capsules can be taken post meals (after lunch and after dinner) but it is important to follow the recommendation of a licensed medical practitioner to make the most of your cannabis leaf based medication.
What is the onset of action of BOHECO PEACE capsules?
One may start feeling the pain relieving and relaxing effects about an hour after ingestion.
What's new about BOHECO PEACE Capsules?
BOHECO PEACE capsules are the perfect introduction to cannabis leaf based medication for managing mild to moderate pain conditions. With ~1:1 ratio of major cannabinoids (~5 mg : ~5 mg) in addition to other minor cannabinoids, terpenes and curcuma longa extract, PEACE capsules are easy-to-use, easy-to-carry and offer precise dosing in every capsule.
What is the difference between the new oil-based capsules and the existing powder-based (DESIRE, BLOSSOM & DIGEST) capsules?
Products such as DESIRE, BLOSSOM and DIGEST utilise the Vijaya leaf in a powdered form while PEACE capsules use the full-spectrum Vijaya leaf extract along with the curcuma longa extract for pain relief and holistic healing. Oil has a better absorption than powder form. Both versions of the capsules are considered under Schedule E(1) and require a valid medical prescription.
How long do the effects stay?
The duration of action of BOHECO PEACE Caps may be approximately ~3-4 hours.
Are the capsules as effective as the tincture?
Yes! BOHECO PEACE Capsules and SLEEP & PEACE tinctures are made from the same hemp leaf extract. The main difference between the tinctures and capsules is the delivery method. The capsule takes longer to get absorbed into the system as compared to the tincture which is consumed sublingually (under the tongue) and gets absorbed more quickly. The effectiveness still remains the same, basis the strength and dosing prescribed.
What is the difference between the capsules and tincture?
Besides the delivery method and the strength, the capsules offer precise dosing compared to tinctures. Capsules are also a good fit for those who prefer pills to syrups or oils. Often, taste preferences, lifestyle and the nature of the ailment also factor into whether the capsules or the sublingual tincture is best for you.
Does higher concentration of major cannabinoids mean more efficacy?
The concentration and dosing of major cannabinoids depends on an individual's physiology and the severity of the ailment. It is important to closely consult with your medical practitioner to understand the precise dosage to experience efficacy.
Does taking capsules mean less CBD is absorbed into the body?
No. It just means it will take your body longer to experience the therapeutic effects of CBD.
View More
View Less