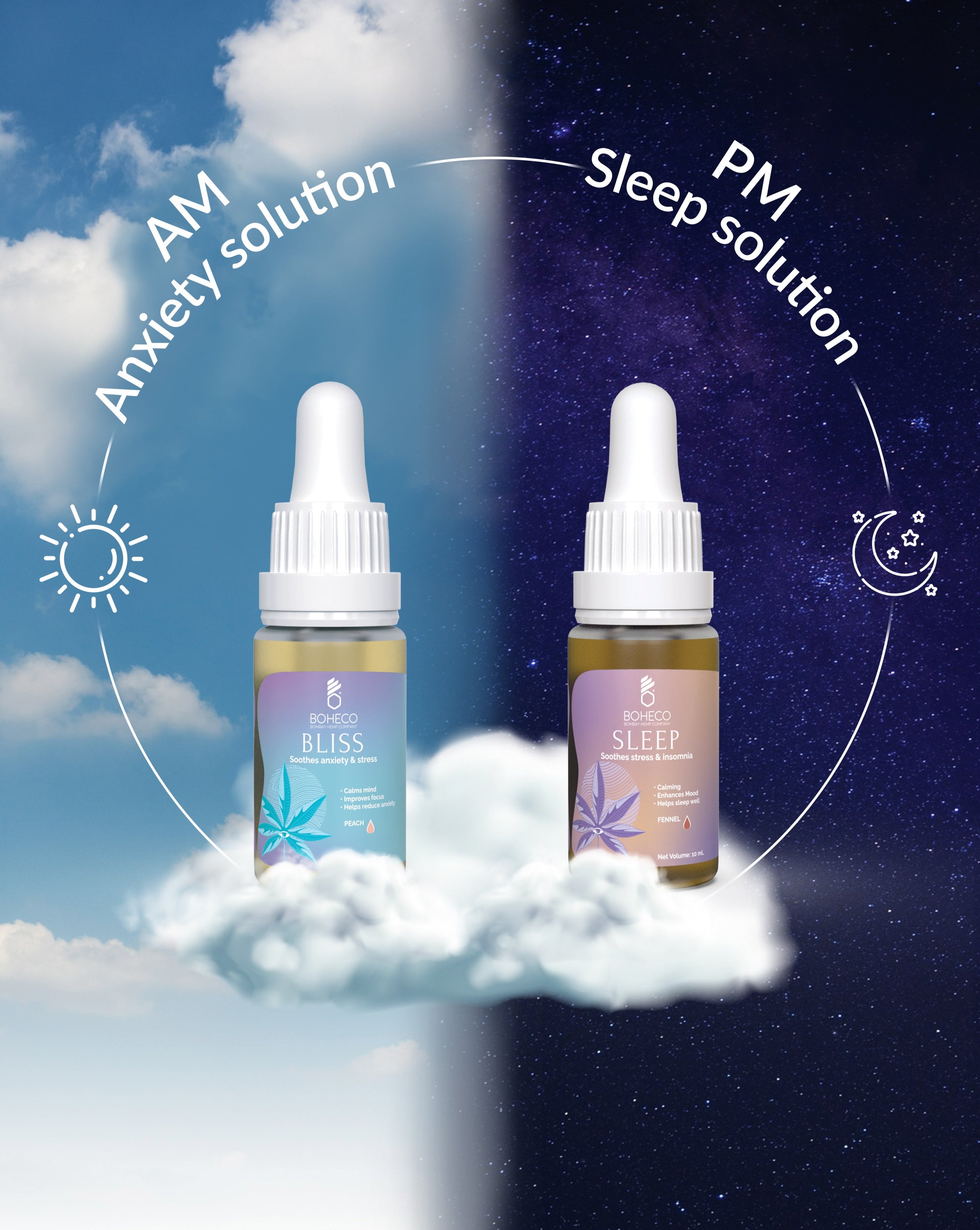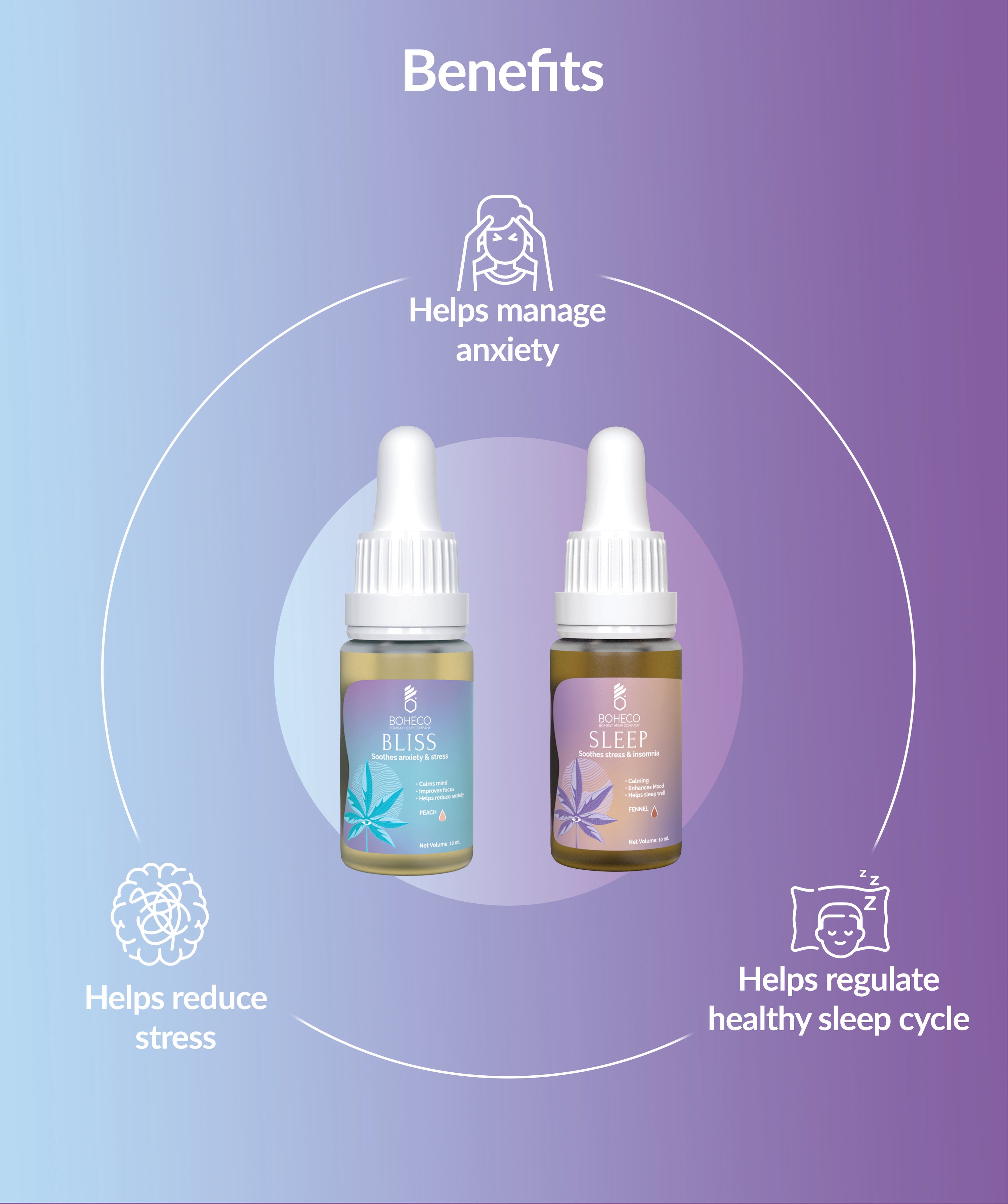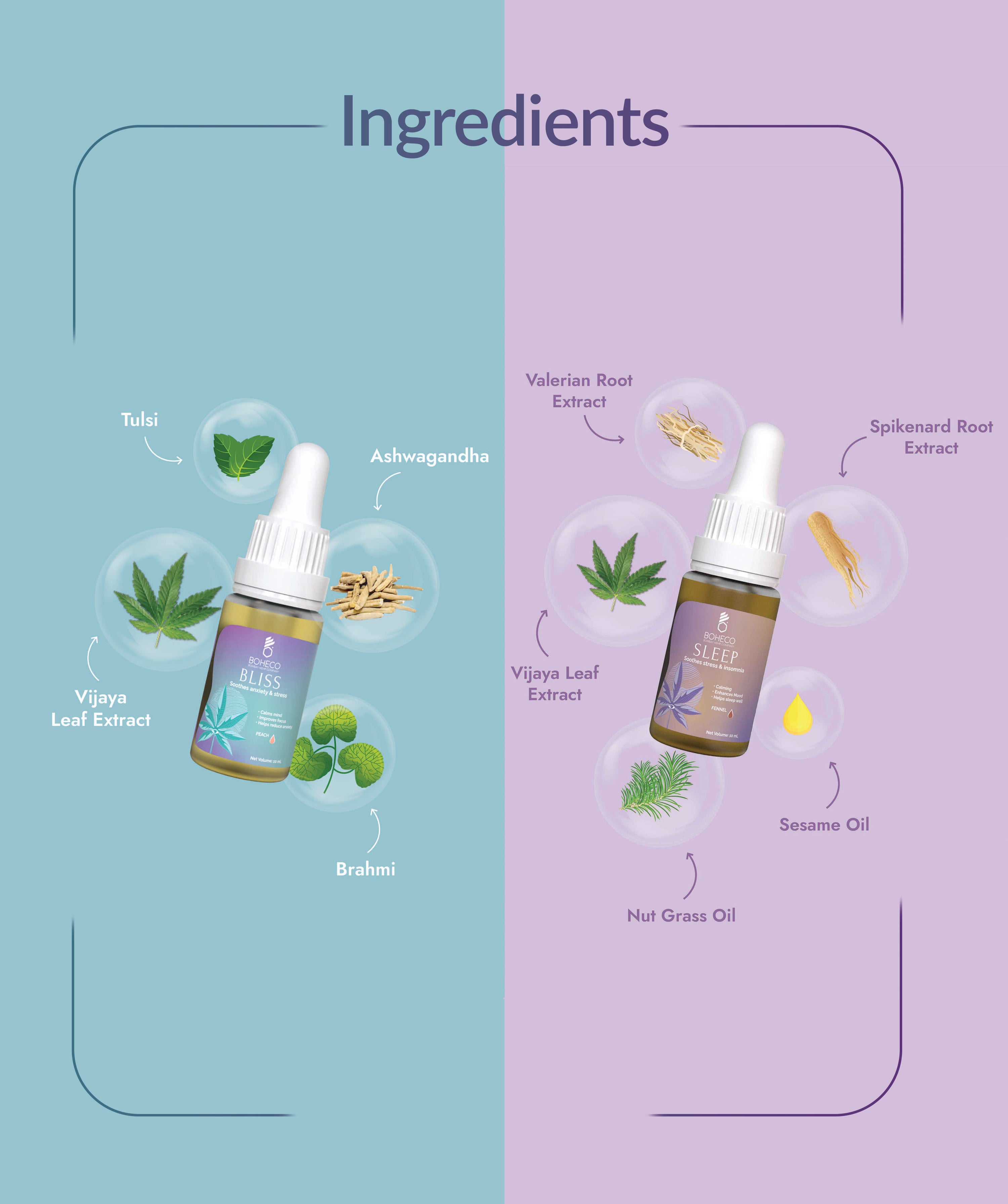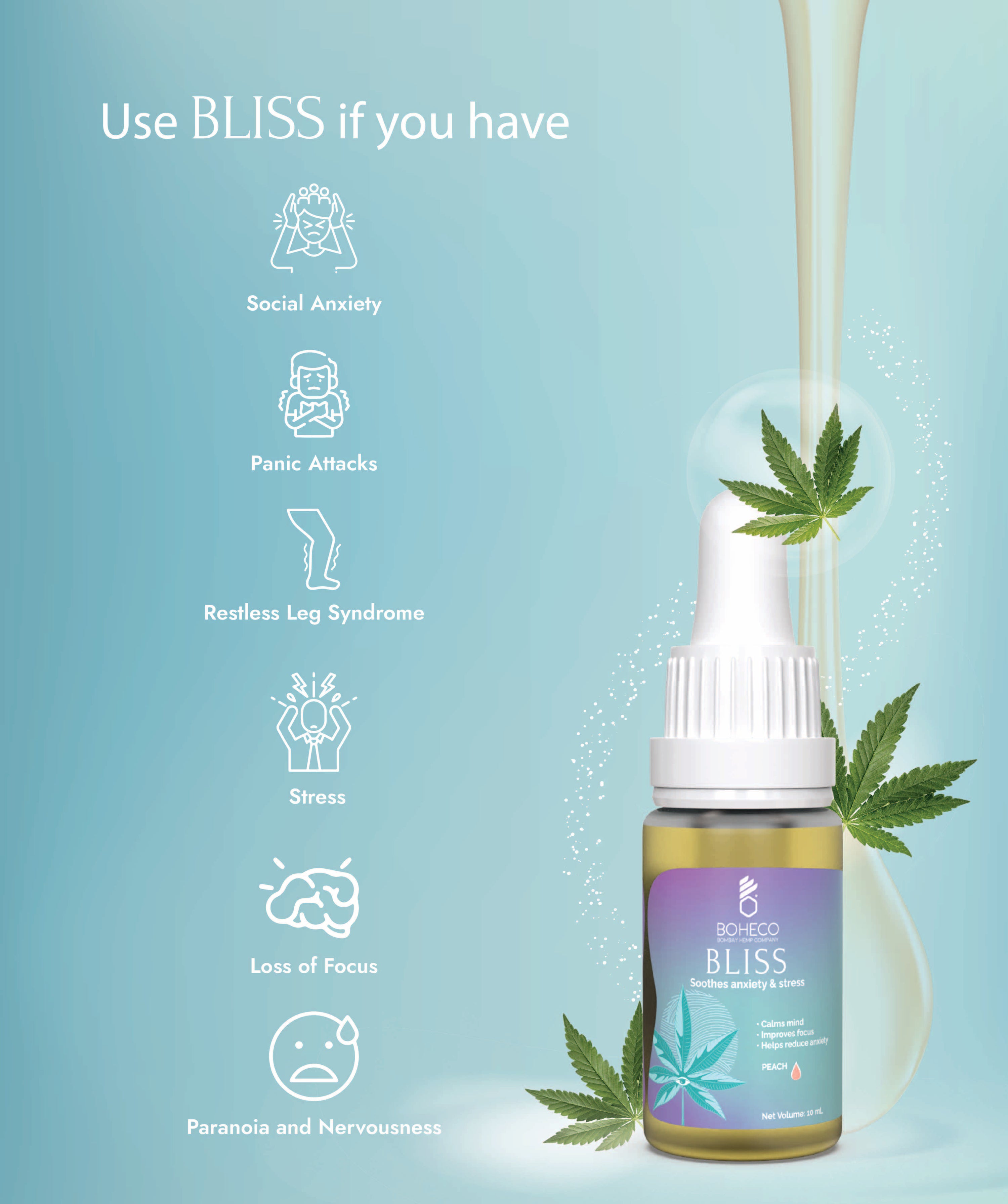 Mental Health Duo

Stress & Anxiety All Rounder
Mint & Peppermint - 10ml + 10ml
₹2,659
Regular price
(4% OFF)
MRP:
₹2,798
Inclusive of all Taxes (GST)
Subscription • Save
Description
Delivery Policy
Introducing BOHECO's Mental Health Regime, a comprehensive solution to elevate your mental well-being throughout the day. Crafted with care, this All-Day duo addresses the three pillars of mental health: anxiety, stress, and sleep, providing a holistic approach to your mental wellness.
BOHECO
BLISS
is your daytime companion, meticulously formulated to combat anxiety and promote calmness. With a blend of broad-spectrum CBD, Tulsi, Brahmi, and Ashwagandha, it offers fast and effective relief from anxiety's grip. Whether you're navigating a challenging workday, seeking focus, or simply longing for tranquillity, BLISS empowers you to breathe easy and regain your inner peace. Sourced from the pristine fields of India, BOHECO BLISS contains ~30 mg of CBD per 1 mL, along with other cannabinoids, ensuring a natural and soothing remedy for anxiety-related symptoms.
BOHECO
SLEEP
, the nighttime counterpart, is engineered to alleviate stress and usher in restorative sleep. Infused with full-spectrum cannabis leaf extract, it's a natural solution for sleep related issues and relaxation. With each 1 mL containing ~22.5 mg of major cannabinoids, including ~7.5 mg of CBD, SLEEP acts on the body's endocannabinoid system, calming the mind, promoting deep sleep, and reducing stress. Its proprietary blend of Tagar (Valerian), Jatamansi (Spikenard), and Musta (Nut Grass) offers calming effects that make it easier to embrace the night's restorative embrace.
This Mental Health Regime by BOHECO is your gateway to a life free from the shackles of anxiety, stress, and sleeplessness. Embrace tranquillity at any time of the day with these two meticulously crafted wellness companions. Elevate your mental well-being naturally, because a peaceful mind is the foundation of a fulfilling life. Discover the serenity that comes from within, only with BOHECO.
🩺 Disclaimer: This is a prescription based ayurvedic medicine. Please note, you will be required to either share a prescription (not older than 120 days from the date of issue) from a certified medical practitioner OR go through our internal consultation process.
We want you to get started on your journey as soon as possible! So, we will try our best to dispatch your order within 48 hours! Appreciate your patience.

Plant-Based

Non Toxic

No Additives

Non-GMO

Cruelty Free

Top Quality Trusted Products

Good Manufacturing Practices

Rooted In Ayurveda
BENEFITS
Rediscover a life of Balance and Harmony
Find respite from anxiety throughout the day with BOHECO BLISS. Our unique blend of broad-spectrum CBD and Ayurvedic herbs like Tulsi, Brahmi, and Ashwagandha promotes a sense of calm and tranquility, helping you regain your inner balance
Tackle stress head-on with BOHECO SLEEP, designed to mitigate stress and soothe the mind. Its full-spectrum cannabis leaf extract, enriched with calming herbs, aids in stress reduction, promoting a state of relaxation and mental well-being
Say goodbye to sleepless nights. BOHECO SLEEP's natural formulation, enhanced by cannabis leaf extract and Ayurvedic ingredients, encourages deep and restorative sleep, making insomnia a thing of the past
Achieve mental serenity throughout the day with BOHECO BLISS. Our carefully selected ingredients, including CBD and adaptogenic herbs, work harmoniously to promote overall mental calmness and relaxation
Elevate your mood naturally. The combination of CBD and Ayurvedic herbs in BOHECO BLISS helps enhance your mood, making it easier to stay positive and focused, even in challenging situations
HOW TO USE
Take 2-3 drops post meal sub-lingually or as directed by a physician. It is advised to begin with a low dose, 0.25 mL daily, as the dosage may vary depending on the disease status and other factors. To determine the proper dose, it is advisable to follow your doctor's recommendations.
BLISS: Take a few drops as needed during the day for quick relief.
SLEEP: Consume one hour after dinner for a restful night's sleep.
BLISS: Vijaya* (Cannabis Sativa) Leaf Extract, Ashwagandha, Brahmi, Tulsi, Flavouring Agent Q.S., Excipients Q.S.
*Vijaya - Cannabis Sativa Linn.
SLEEP: Vijaya* Leaf Extract, Vijaya* Seed Oil, Valerian Root Extract, Spikenard Root Extract, Nut Grass Oil and Sesame Oil
Flavouring Oil: Peppermint / Fennel
*Vijaya - Cannabis Sativa Linn.
Keep the bottle in a cool, dry place away from sunlight.
1. PLEASE STUDY THE PRODUCT AND INGREDIENTS CAREFULLY
2. DISCONTINUE IF YOU HAVE AN ALLERGIC REACTION WHEN CONSUMING
3. IT IS NOT RECOMMENDED FOR PREGNANT OR BREAST-FEEDING WOMEN
4. PLEASE CONSULT A DOCTOR IF YOU ARE SUFFERING FROM HEART CONDITIONS BEFORE CONSUMING
5. PLEASE CONSULT A DOCTOR IF YOU ARE UNDER ANY OTHER FORM OF MEDICATION/TREATMENT BEFORE CONSUMING
6. THIS MEDICINE SHOULD ONLY BE TAKEN ONLY AFTER A MEAL
7. DO NOT CONSUME WHILE UNDER THE INFLUENCE OF ALCOHOL
8. NOT TO BE CONSUMED BY CHILDREN UNDER 18 YEARS OF AGE
9. DO NOT CONSUME WHILE DRIVING/RIDING OR OPERATING MACHINERY
Cannabinoids X Endocannabinoid System
Cannabinoids are natural compounds found in the leaves & flowers/bud of the cannabis plant. CBD (Cannabidiol) is one of the most studied and recognized chemical compound found within the vast profile of cannabinoids.

The Endocannabinoid System (ECS) is present in every human biological system. ECS is a cell signalling system comprised of molecules that act as neurotransmitters (CB1 and CB2 receptors) spread across the human body. Some of the processes this cell signalling system is responsible for are mood, inflammation, immunity, pain, stress, sleep, and appetite.
Phyto-cannabinoids bind with the CB1 and CB2 receptors found within the ECS. This interaction helps simulate the cell signalling system and aid regulation of the mentioned symptoms.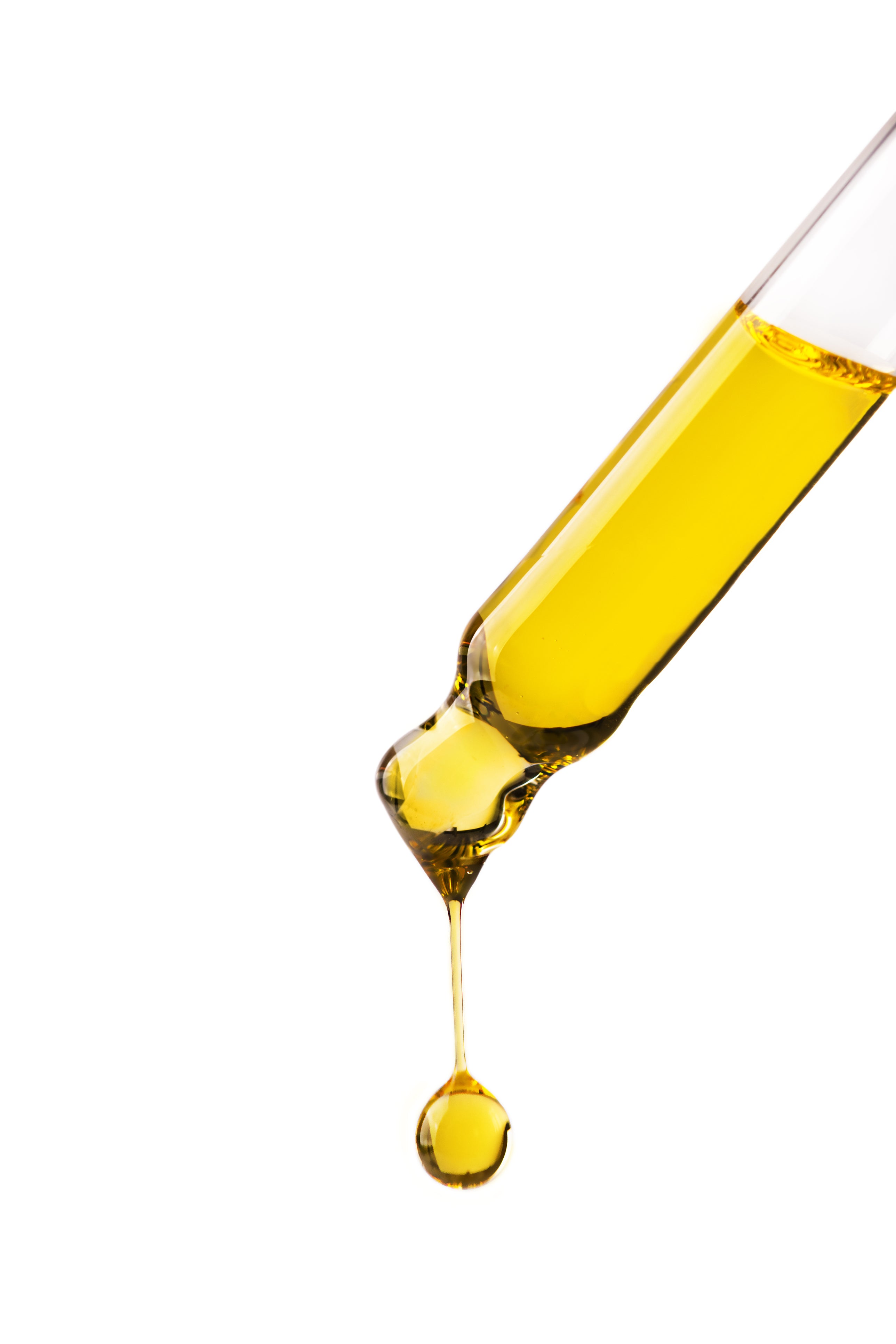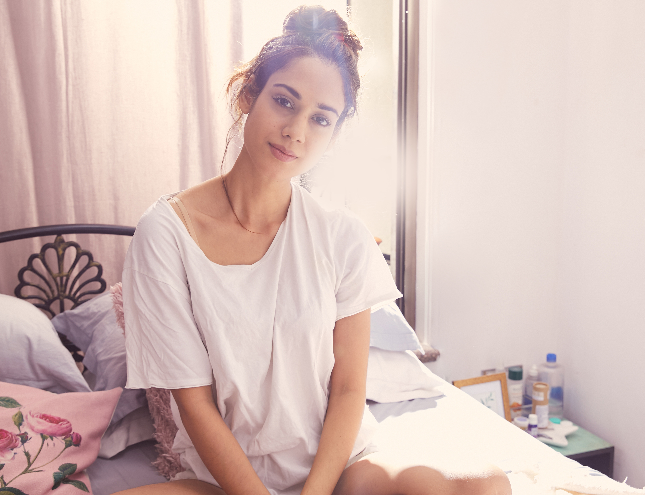 Our Cannabis leaf-based Health and Wellness Range is infused with full-spectrum Cannabis leaf extract. Backed by science and formulated by medical professionals, our proprietary ayurvedic offerings are rich in a variety of cannabinoids and other herbs which provide a targeted solution for your unique health and wellness needs. This range consists of various topical and prescription-based remedies for symptomatic relief through natural treatment.
Perfect Combo
It's balanced and perfect for those just starting out their mental healthcare routine. Good for beginners.
FREQUENTLY ASKED QUESTIONS