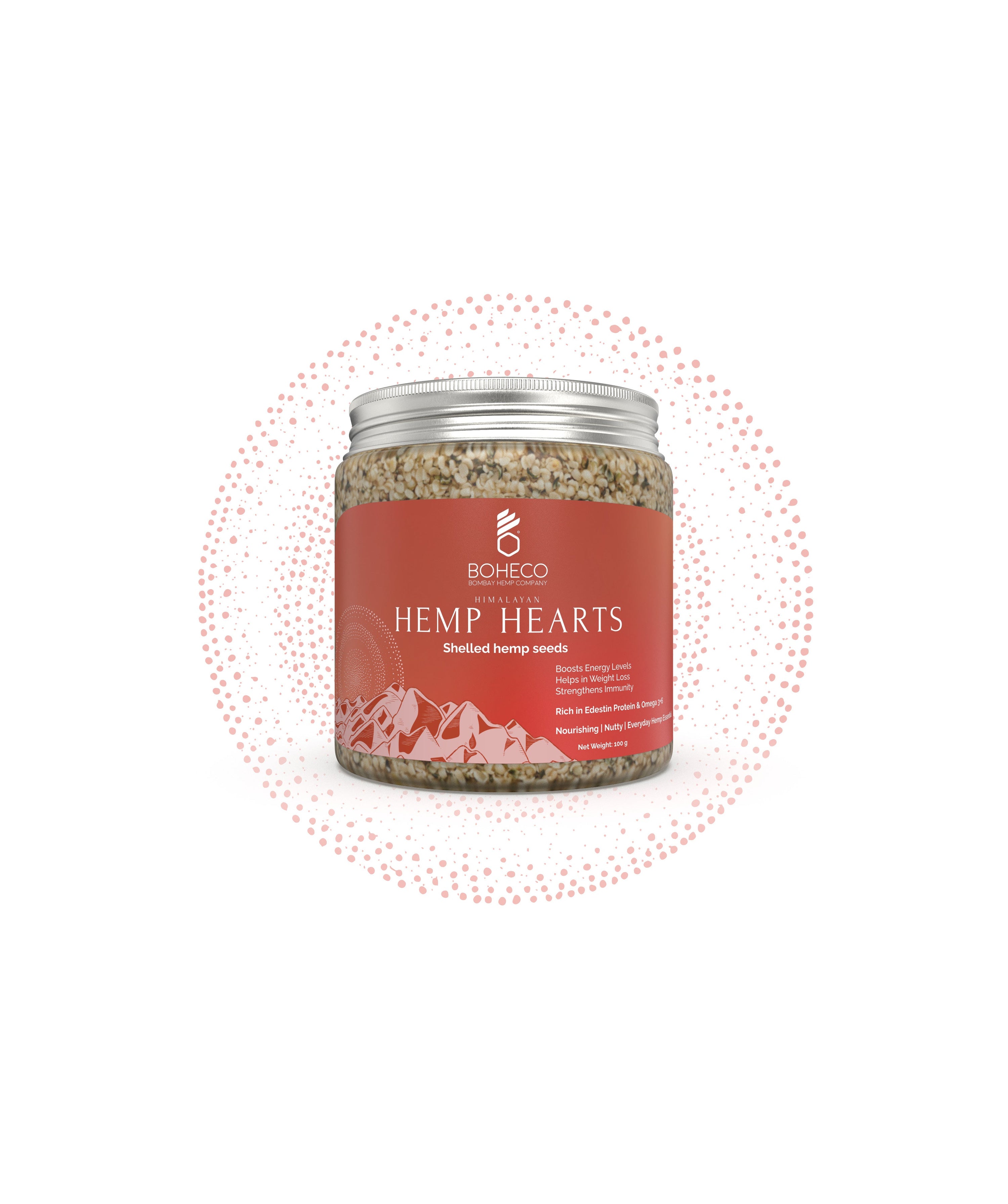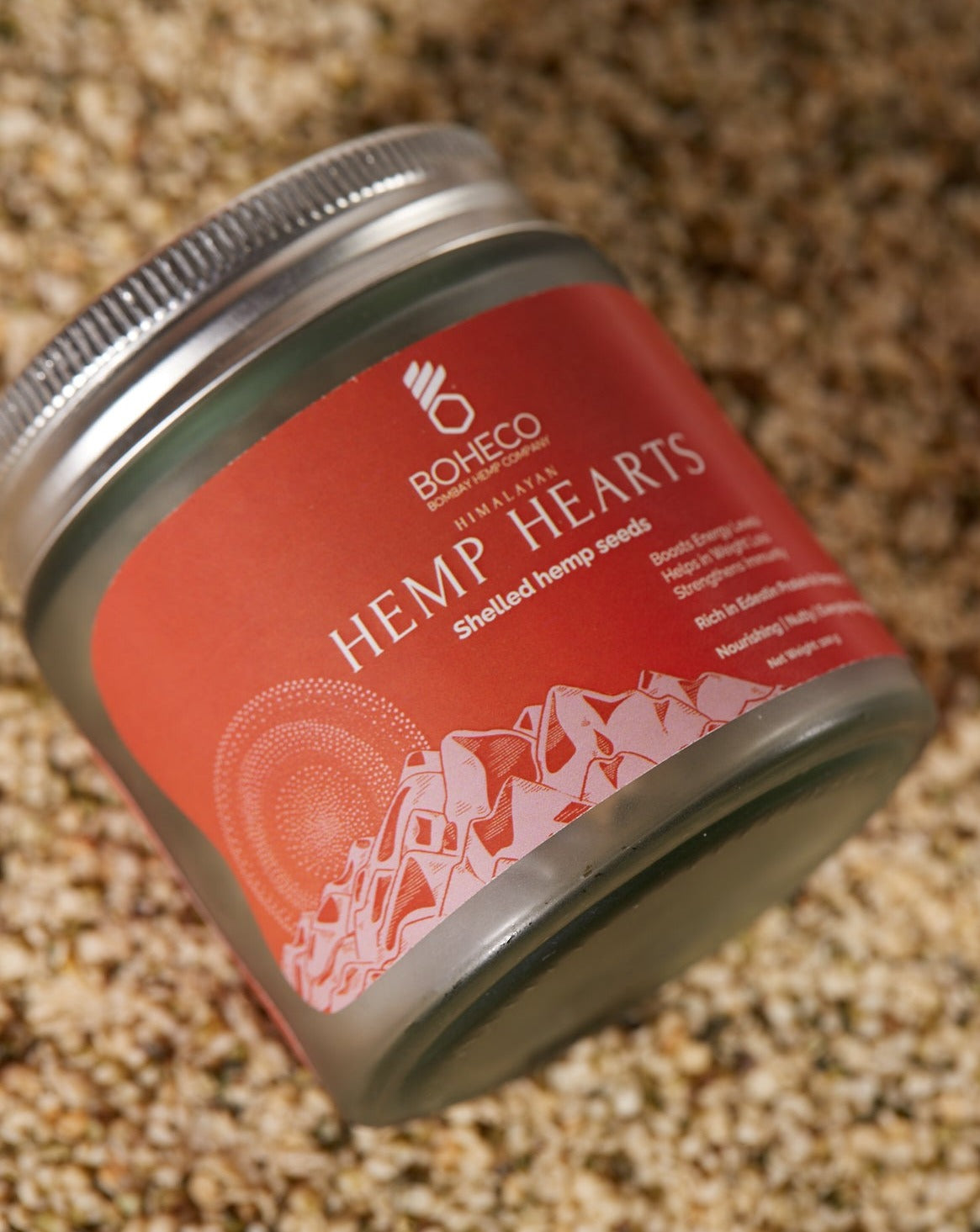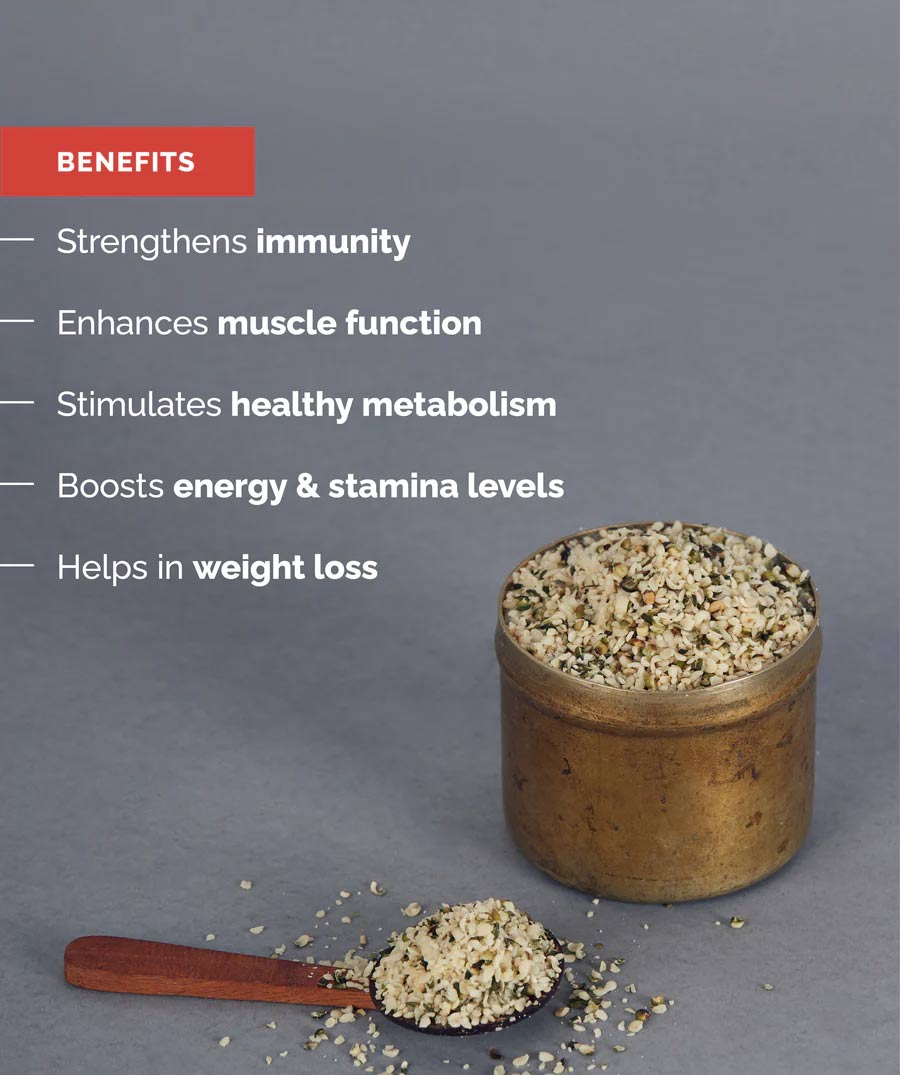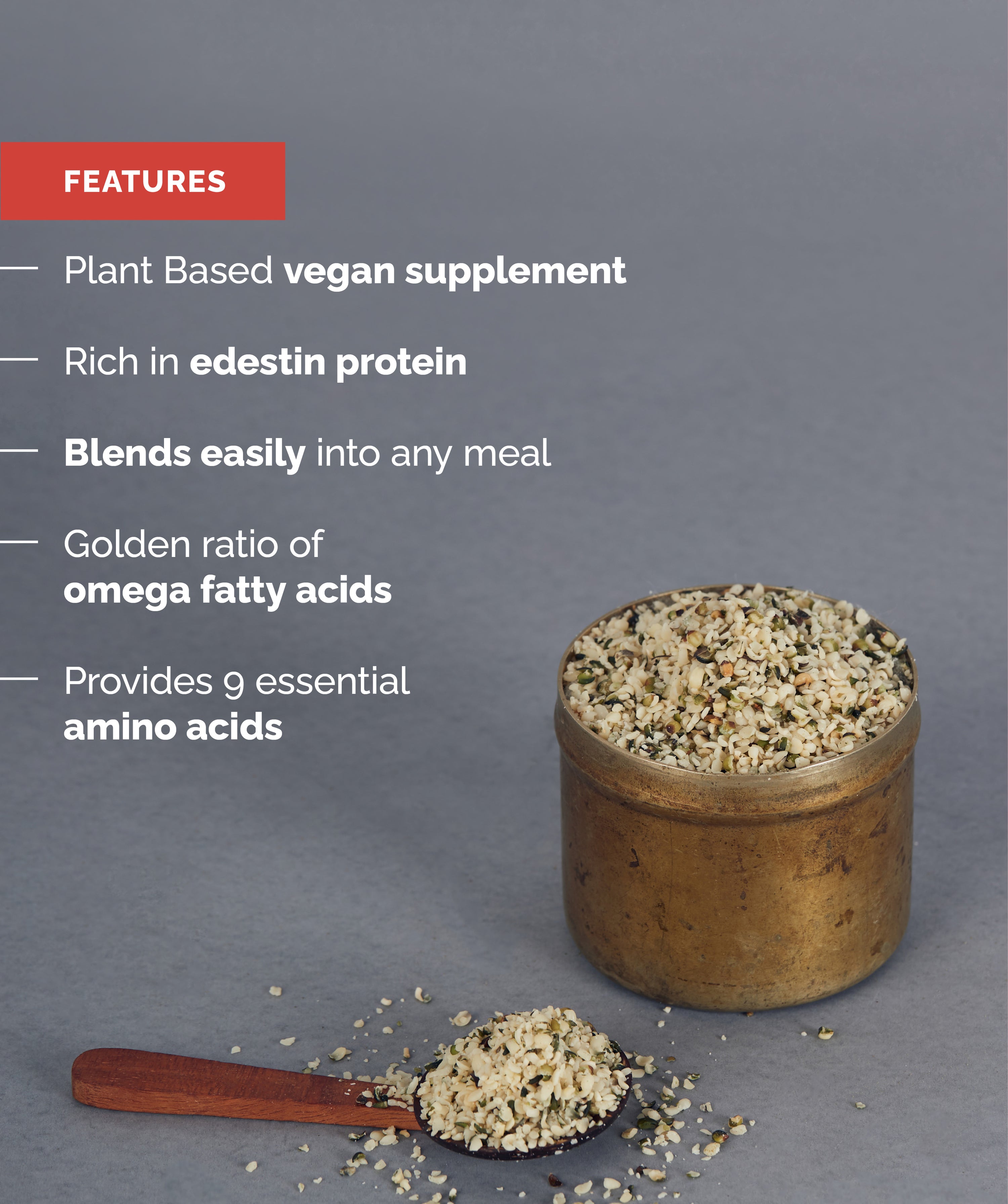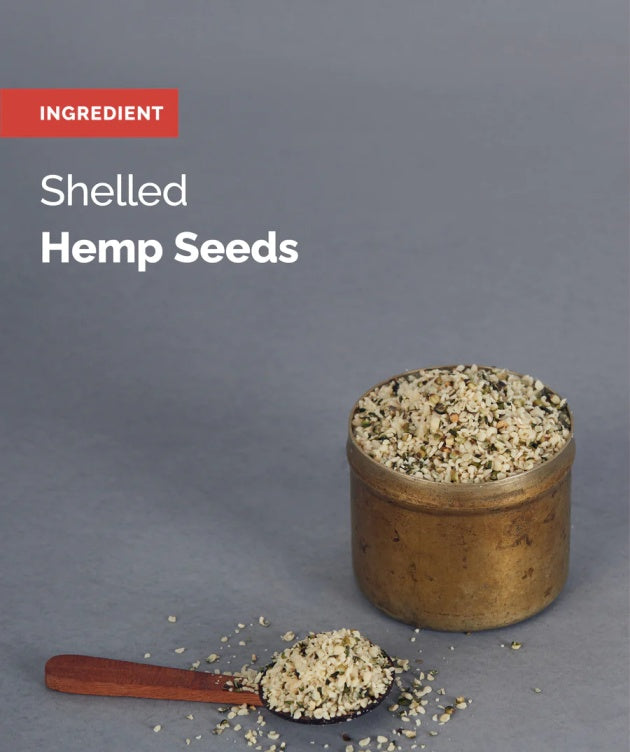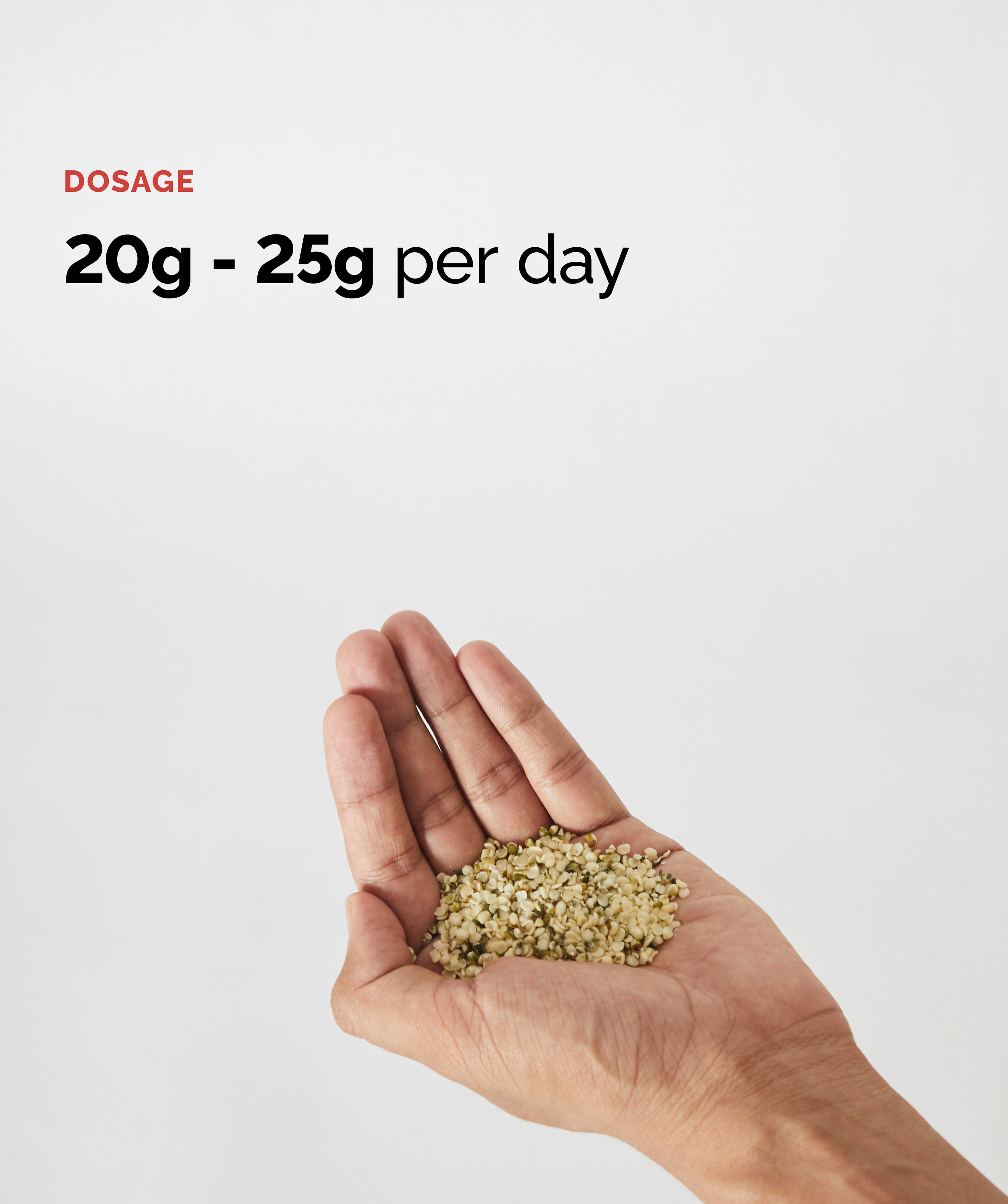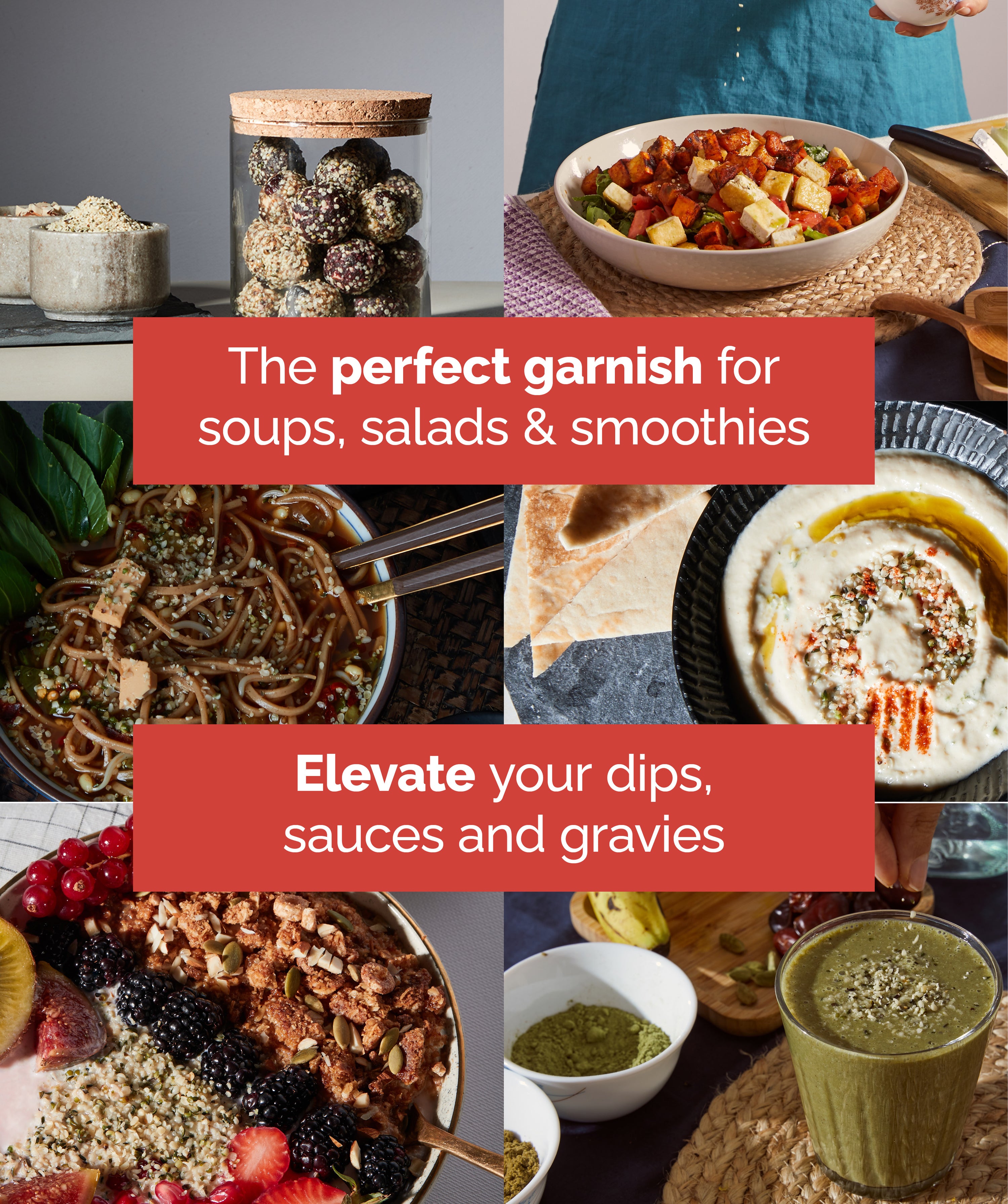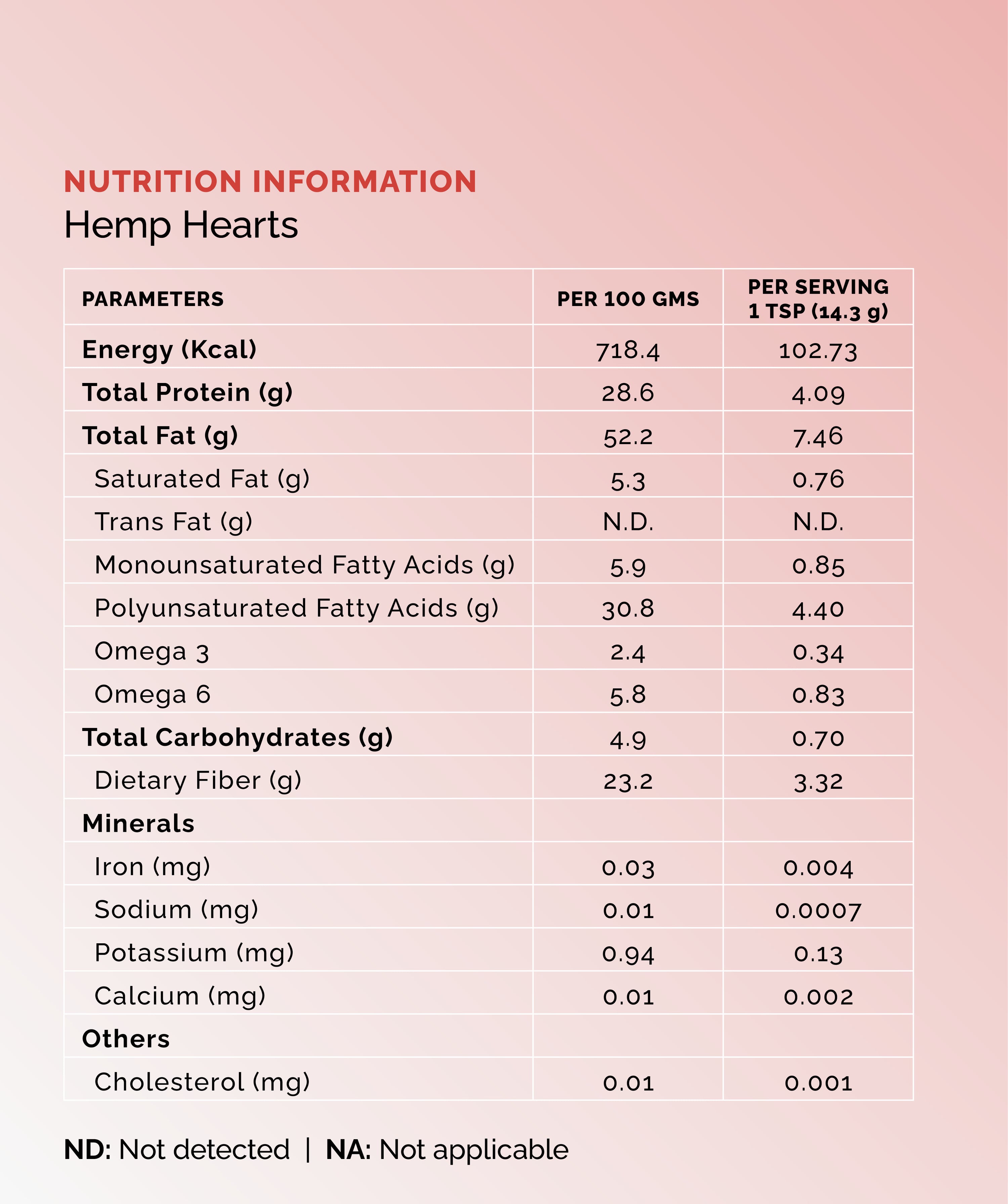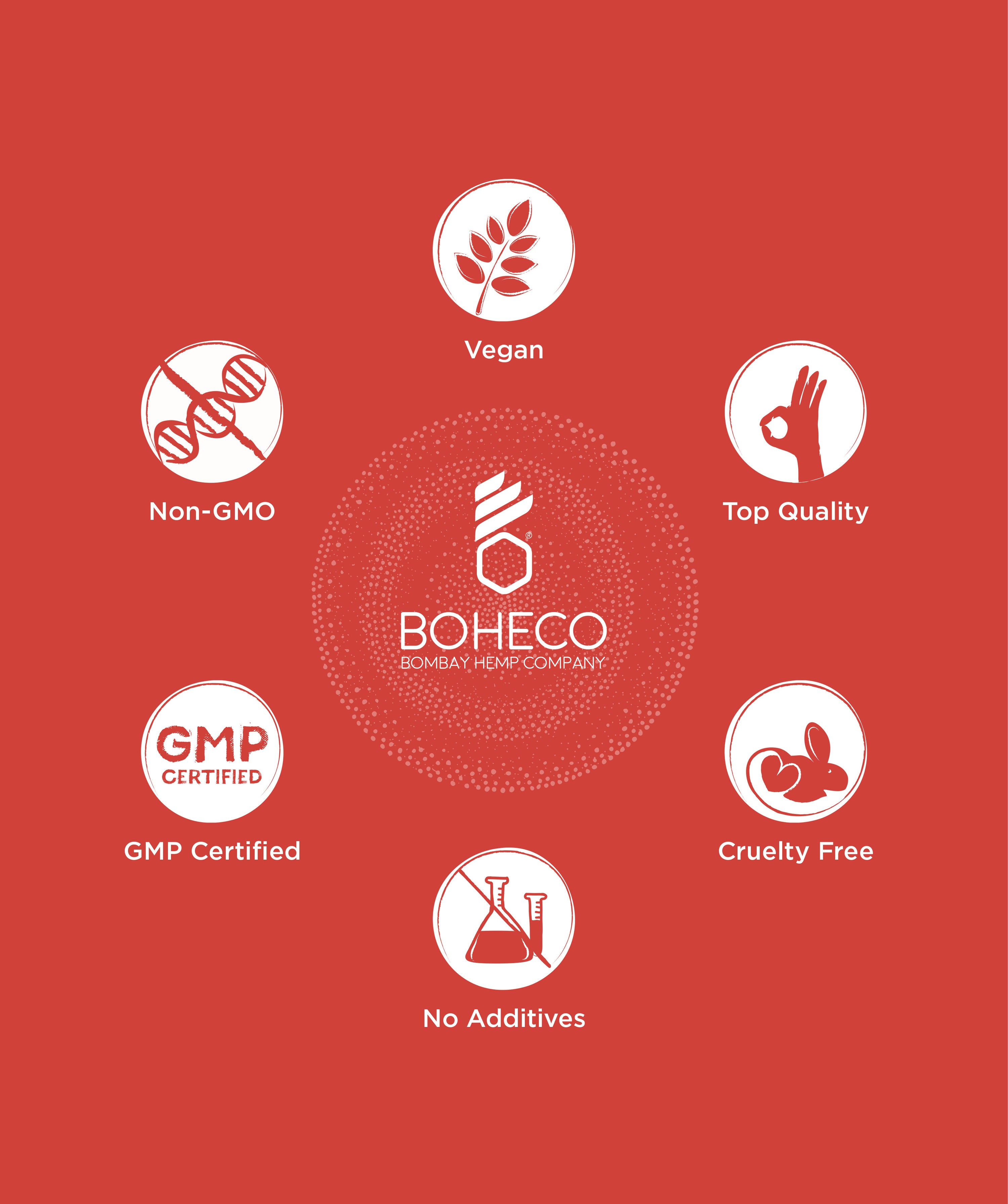 Hemp Hearts

Shelled Hemp Seeds
100 gms
₹399
Regular price
(20% OFF)
MRP:
₹499
Inclusive of all Taxes (GST)
Subscription • Save
Description
Delivery Policy
HIMALAYAN HEMP HEARTS are shelled hemp (Vijaya) seeds that are an all-rounder dense with multiple nutrients such as protein, omega fatty acids, minerals, vitamins, antioxidants, iron, dietary fibres and calcium. It helps boost energy levels, enhances muscle function, promotes weight loss & strengthens immunity.
Carefully selected and shelled Hemp seeds, born in the land of their origin - The Himalayas. If you're looking for a quick fix of nutrition while you're on the go, then Hemp Hearts is your answer.

Nutrition-packed goodness of nature, our Hemp Hearts are sorted and shelled with care to bring out the nutty flavour that compliments all your dishes. Hemp hearts are one of the best plant-based sources of protein and omegas that are essential for your everyday nutritional needs.
We want you to get started on your journey as soon as possible! So, we will try our best to dispatch your order within 48 hours! Appreciate your patience.

Plant-Based

Non Toxic

No Additives

Non-GMO

Cruelty Free

Top Quality Trusted Products

Good Manufacturing Practices

Rooted in Ayurveda
BENEFITS
Hemp Seeds provide a beneficial balance of essential fatty acids, Omega-6 and Omega-3, Vitamin A, and Vitamin C, which is important for the immune system. The ratio of Omega-6 to Omega-3 in hemp seeds is 3:1, which is considered the optimal range (golden ratio) of fatty acids and has been shown to empower immune response and may boost energy levels.
GLA (Gamma-Linolenic acid) is an Omega 6 fatty acid that is hugely beneficial for the body. Not only is it vital for proper hormonal health, controlling inflammation, and high blood pressure, but it is also helpful for weight loss. GLA helps to raise metabolism. It catalyses the body's adipose tissue (brown fat) to burn calories for energy to keep the body warm.
HOW TO USE
Munch, garnish or mix with any kind of snacks, meals, batters, smoothies. Sprinkle as a garnish on your favourite foods or blend into your everyday meals and desserts for a boost of protein and omegas. Mix into your homemade dry fruit/trail mix as a crunchy and healthy snack.
20g - 25g (1-2 tablespoons) per day.
Shelled Hemp (Cannabis Sativa L.) Seeds.
To be stored in an airtight container in a cool and dry place, away from direct sunlight. Refrigerate once the seal is opened. Keep away from extreme heat or direct flame.
HOLISTIC GOODNESS: Hemp X Human Reason
Hemp travels from the lush Himalayan slopes to your tabletops for your daily wellbeing. Our power-packed Himalayan Hemp Nutrition & Wellness Range derives from hemp seeds sourced from Uttrakhand in the Himalayan region. Hemp seeds have a unique nutritional profile - rich in omegas, vitamins, minerals, protein, and essential amino acids, to name a few. The nutritionally dense hemp seeds help extract other ingredients like hemp powder & hemp seed oil, each having unique nutritional profiles, benefits and usages.
What makes Hemp seeds so effective?
Its power-packed nutritional profile, enhanced bioavailability, and versatile applications make hemp seed-based products the gold standard of superfoods. Products and by-products made from hemp seeds help fulfil multiple wellness requirements arising from our modern-day lifestyle choices. BOHECO products do not contain additives or enhancers. So you can get the best of plant-based wellness daily for your body, mind & soul.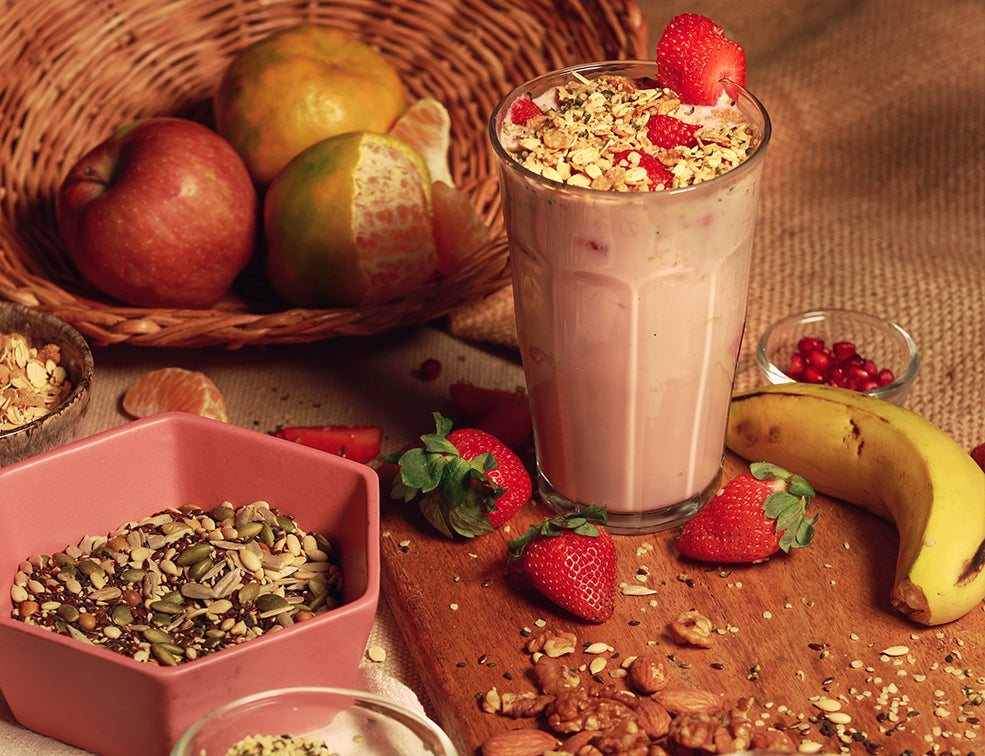 Our Himalayan Hemp Nutrition & Wellness Range is made from power-packed hemp seeds sourced from the Uttarakhand state in the Himalayan region. Rich in omegas, vitamins, minerals, edestin protein, essential amino acids, etc., each product has a unique nutritional profile for your unique nutritional needs. This range consists of various wholesome nutrition & wellness supplements which are great for your daily wellbeing.
Feedback on Hemp Seeds
I find them of good quality, Thanks!
Himalayan Hemp Hearts - 250 x 2 gms
Hemp seeds at their best!
The quality of the product speaks for itself, so glad to have found them. Looking forward to trying new products!
FREQUENTLY ASKED QUESTIONS
What are Hemp Hearts?
Hemp Seeds have been famously called Hemp Hearts. Hemp Seeds are derived from the Hemp Plant also known as Cannabis Sativa L.
What are hemp seeds health benefits?
• Hemp Seeds are known to be a wholesome source of plant-based nutrition.
• Hemp Hearts benefits include-
o Boosts Energy Levels.
o Assists in Weight Loss.
o Maintains Normal Cholesterol Levels.
o Acts as an anti-inflammatory.
o Builds Immunity.
o Maintains Hormonal Balance.
o Improves Cardio Vascular Health.
o Aids Muscle Function.
What are hemp seeds side effects?
Hemp Seeds also known as Hemp Hearts are a wholesome source of nutrition. Hemp seeds side effects have not been witnessed.
What is hemp seeds called in hindi?
Hemp Seeds in Hindi are called "bhaang ke beej".
What are some popular hemp seeds recipes?
Checkout BOHECO Blog to know more about hemp powder recipes.
Can I cook with Hemp Hearts?
Hemp hearts are best consumed raw or sprinkled over your favourite food smoothies and juices. This preserves the nutrition present in the seed's natural element. You can experiment with your recipes by including Hemp hearts.
Do Hemp Seeds contain THC?
Hemp contains less than 0.3% THC by dry weight which is the norm set by governments around the globe. This amount of THC is not enough to create a psychoactive effect, and this has been verified by multiple food research institutions globally.
Do Hemp Seeds contain Cannabidiol (CBD)?
Cannabidiol is produced within the flower of the cannabis plant. Therefore, hemp seeds also have a negligible percentage of CBD.
Can Hemp products cause intoxication?
No, you cannot get intoxicated by consuming Hemp products. This is because THC(which is the psychoactive factor responsible for creating the euphoria or high) is negligible. Our hemp seeds go through a rigorous cleaning process and we also conduct several tests on every batch of hemp seed before packaging. This is also backed by validated results which show that the amount of THC present in the product is well within the safety limits and norms.
Is it safe for pregnant women to consume Hemp?
We recommend you consult a physician. Hemp contains numerous nutrients, including folic acid, so it could be a nutritious and delicious addition to expectant mothers' diets.
Is it safe for children to consume Hemp?
We recommend that you consult a physician and take into consideration the child's age and body weight while determining the portions.
What would be the correct dosage of Hemp Products?
We recommend that one consults a physician/nutritionist.
Where does Hemp originally come from?
Hemp is indigenous to the foothills of the Himalayan mountain range. It is where the plant was said to have originated and from there it's wonders were eventually noticed and then spread through continents.
How is Hemp helping the farmers?
An increasing number of farmers are leaving the agricultural haven that exists in the Himalayas to work in cities. Hemp grows fast with the least intervention and has about *25,000 proven usages. Farmers will stand to benefit from growing hemp and as we empower them, we empower ourselves. BOHECO Life insists on Fair Trade methods and the education and upliftment of all our agricultural partners.
How can Hemp help our environmental crisis?
According to the United Nations our unsustainable food choices have been causing more harm to the planet than our use of cars, buses, trucks, ships and planes, combined! Hemp requires less water, no pesticides, has soil remedial properties, removes 5 times more Carbon-dioxide from the air and can make almost everything that can be made from trees. Growing hemp reduces water and soil pollution, limits soil erosion, helps restore soil properties, and can save our precious trees!
Why is Hemp a great source of nutrition?
The Hemp plant is not just a nutritional powerhouse, it is the plant kingdoms most sustainable and versatile resource. It means you're never going to run out of the most balanced source of nutrition from the lap of nature. Hemp seeds provide you with a great source of premium quality plant-based protein, Essential Fatty Acids, Omega 3+6, Edestin protein, Calcium, iron, potassium, Vitamins E + B's, Minerals and dietary fibres.
View More
View Less