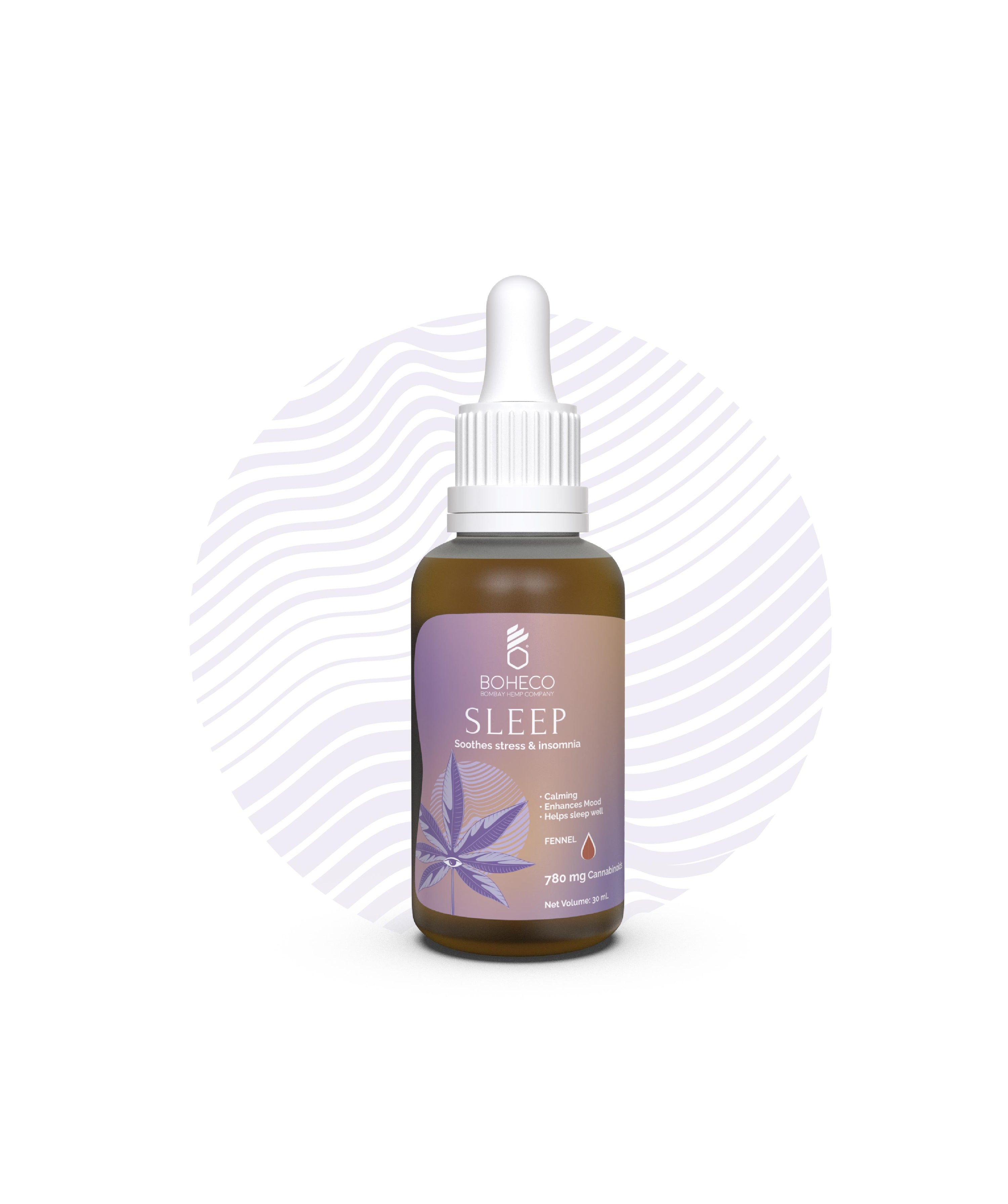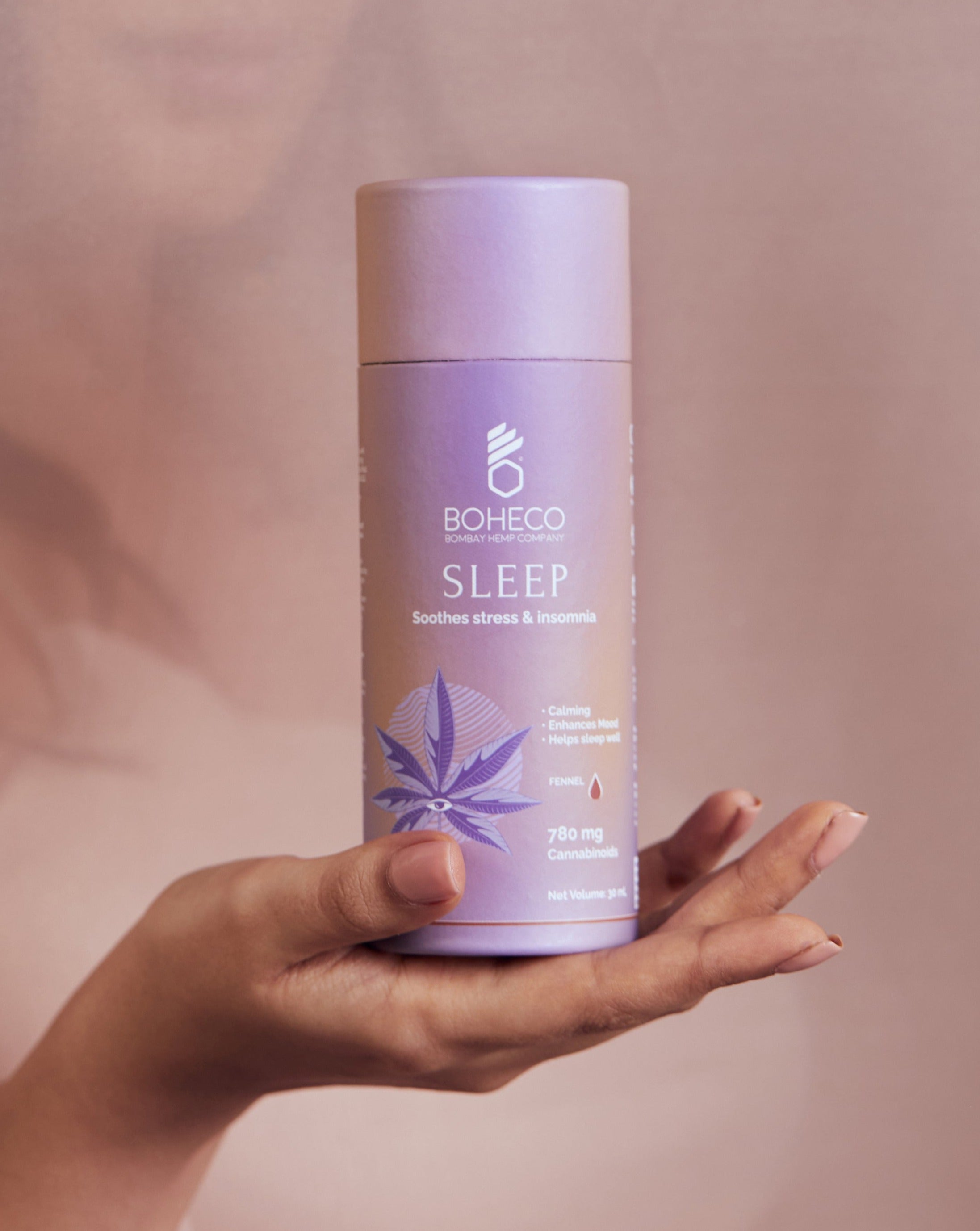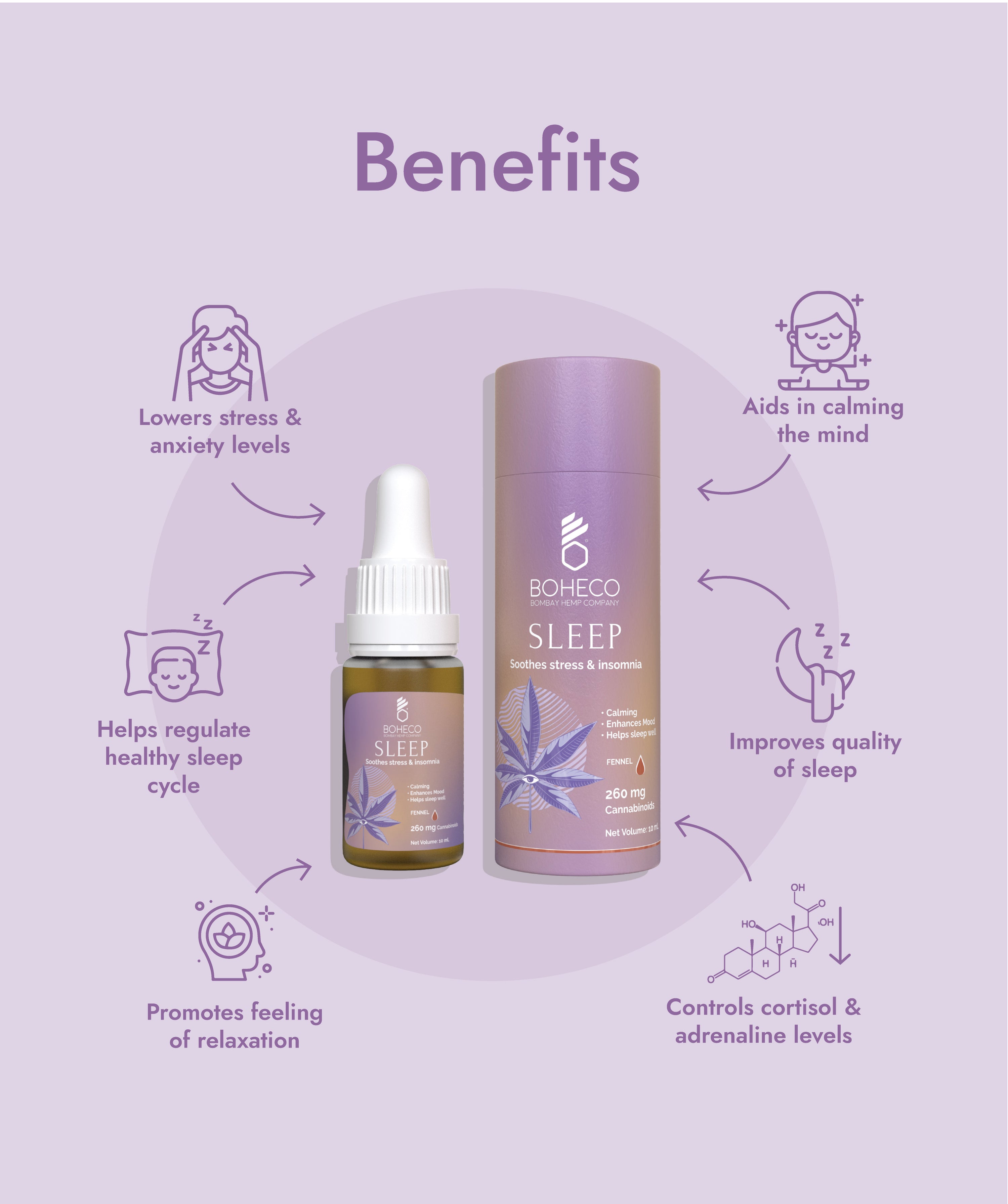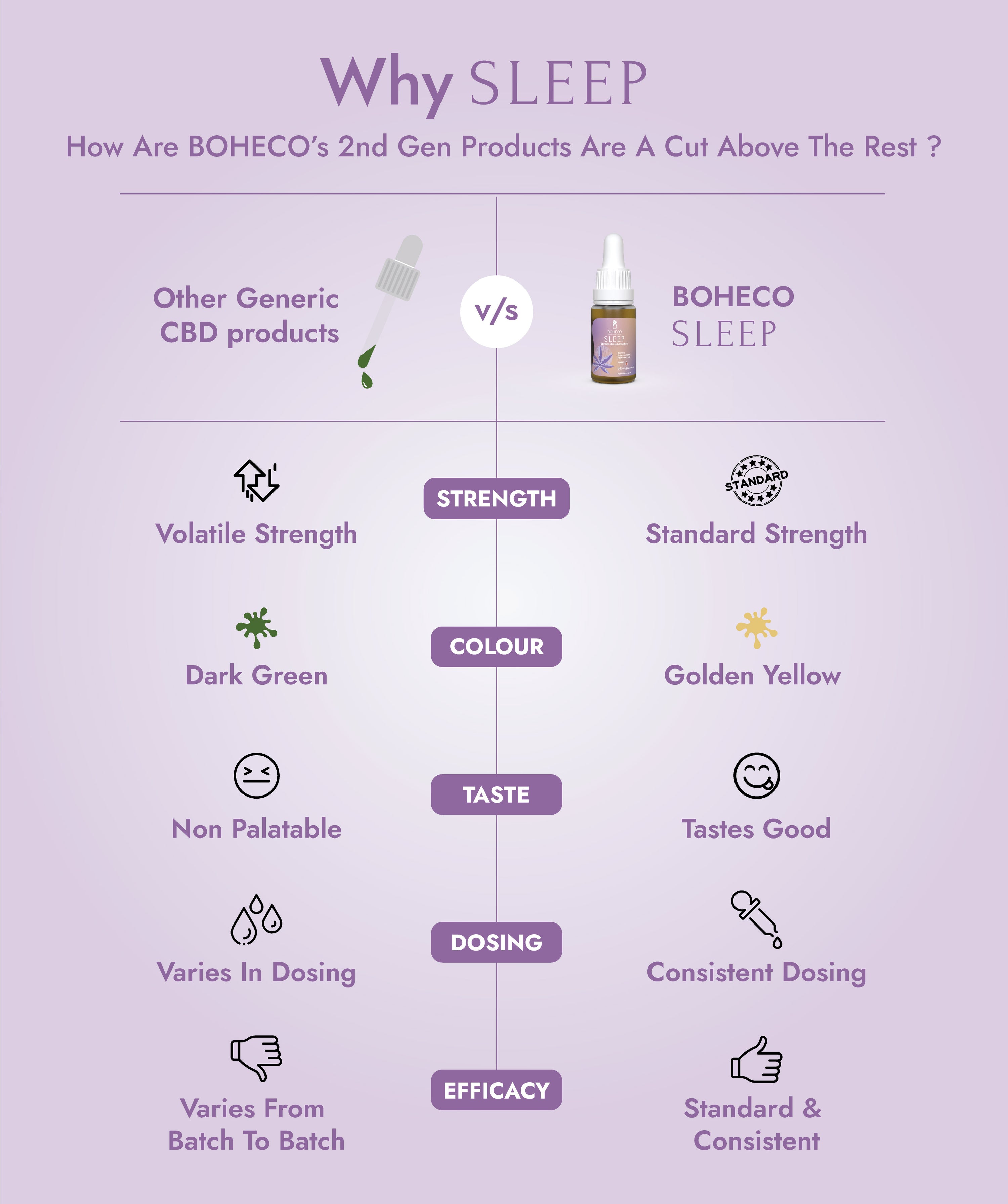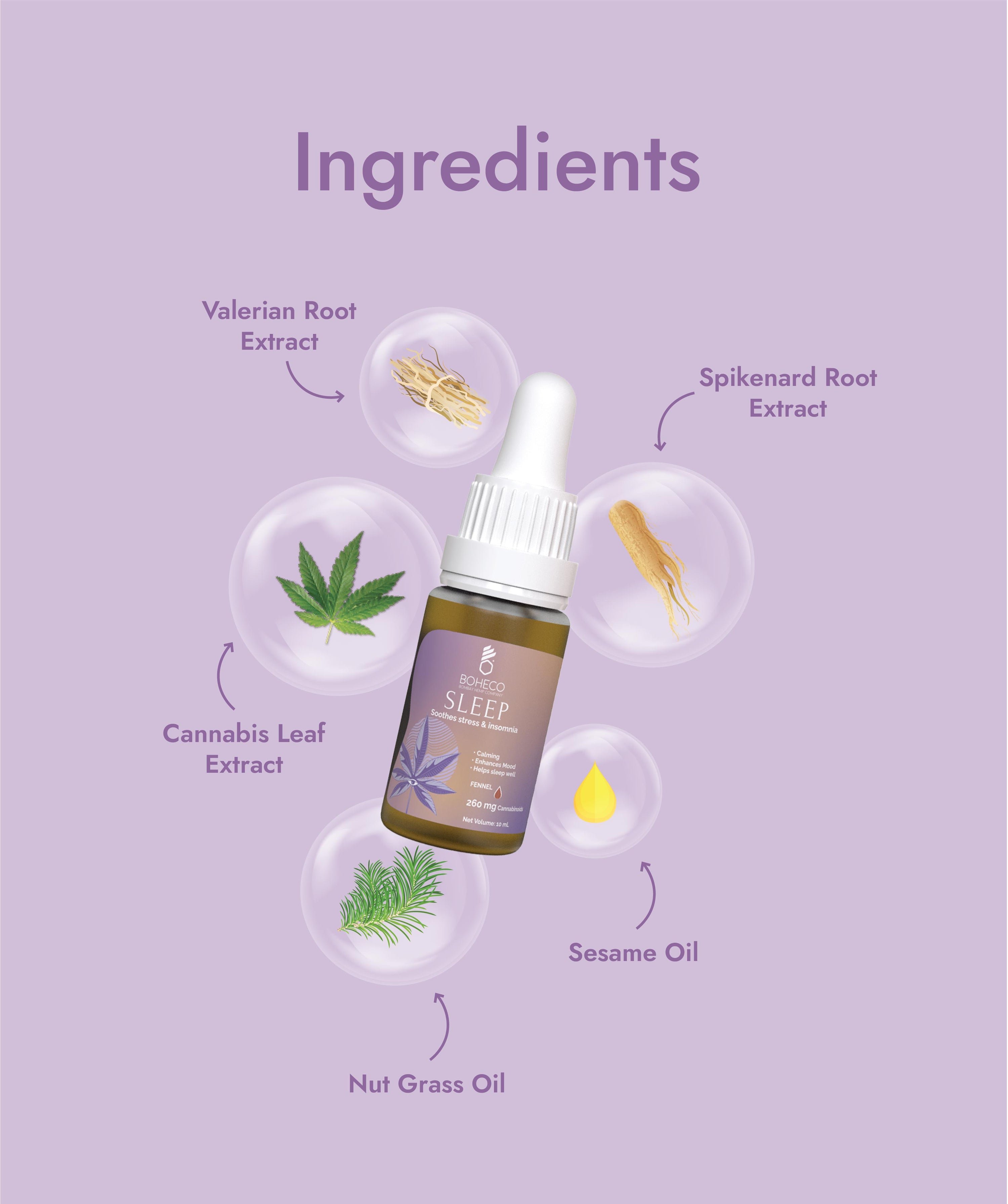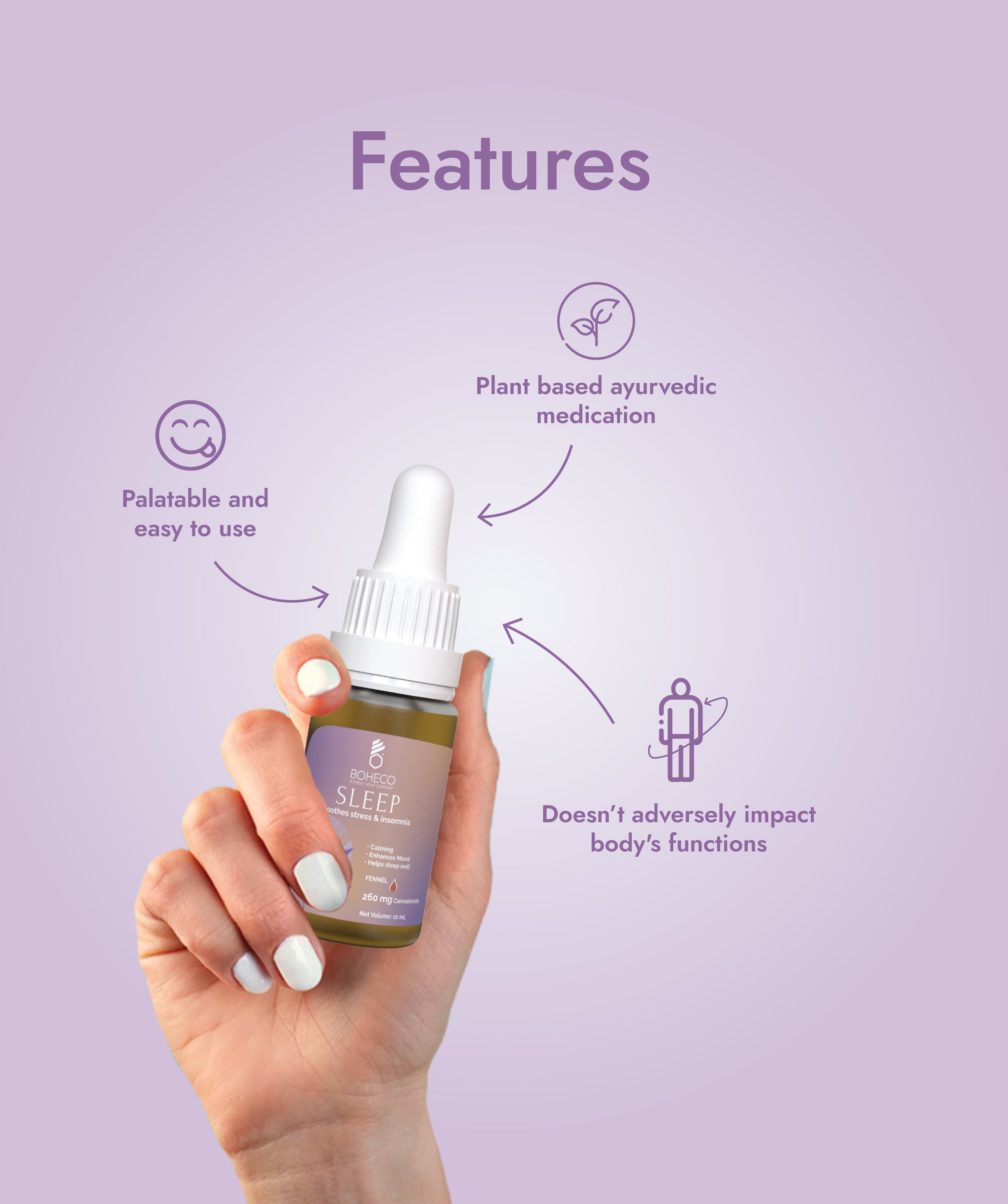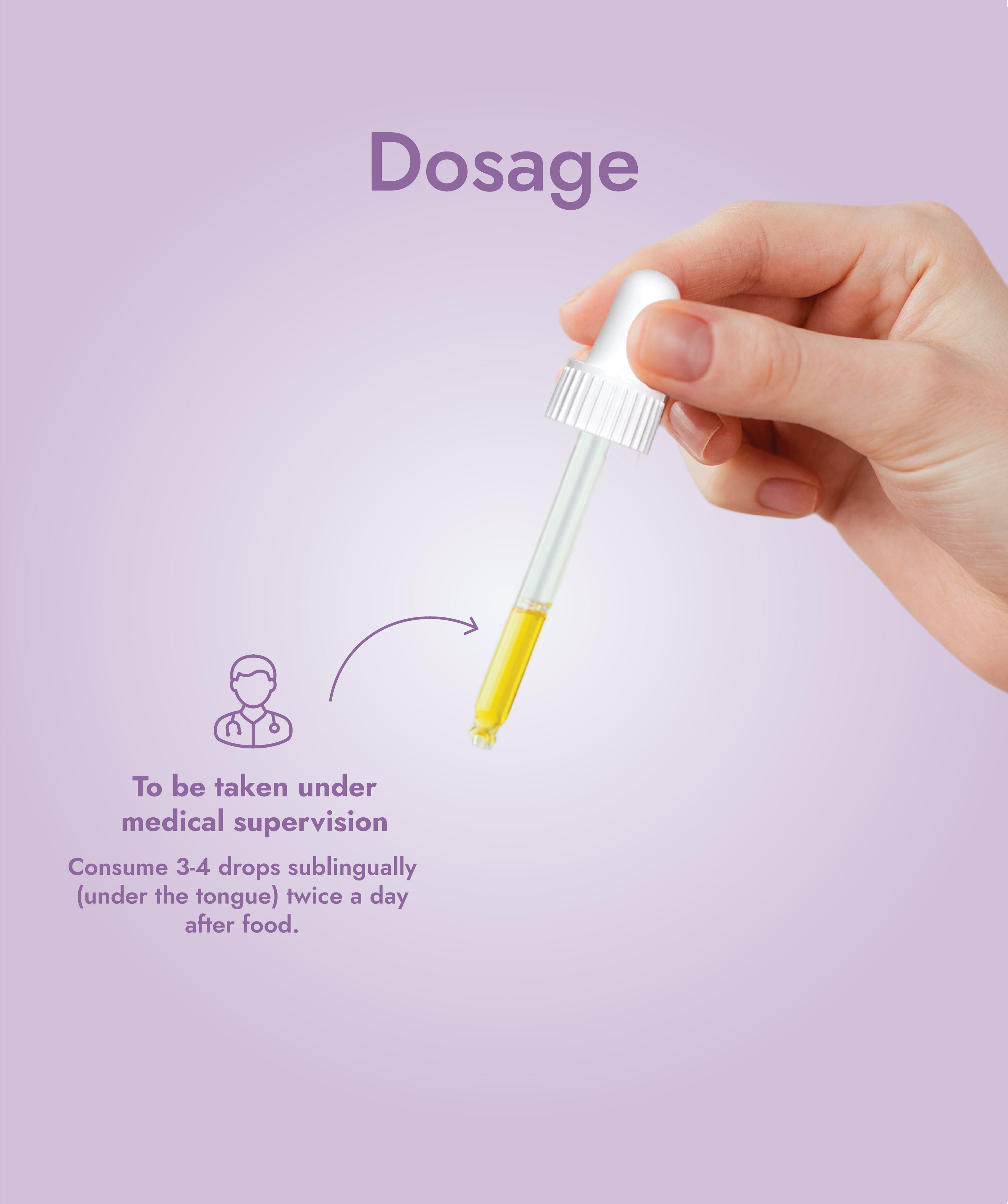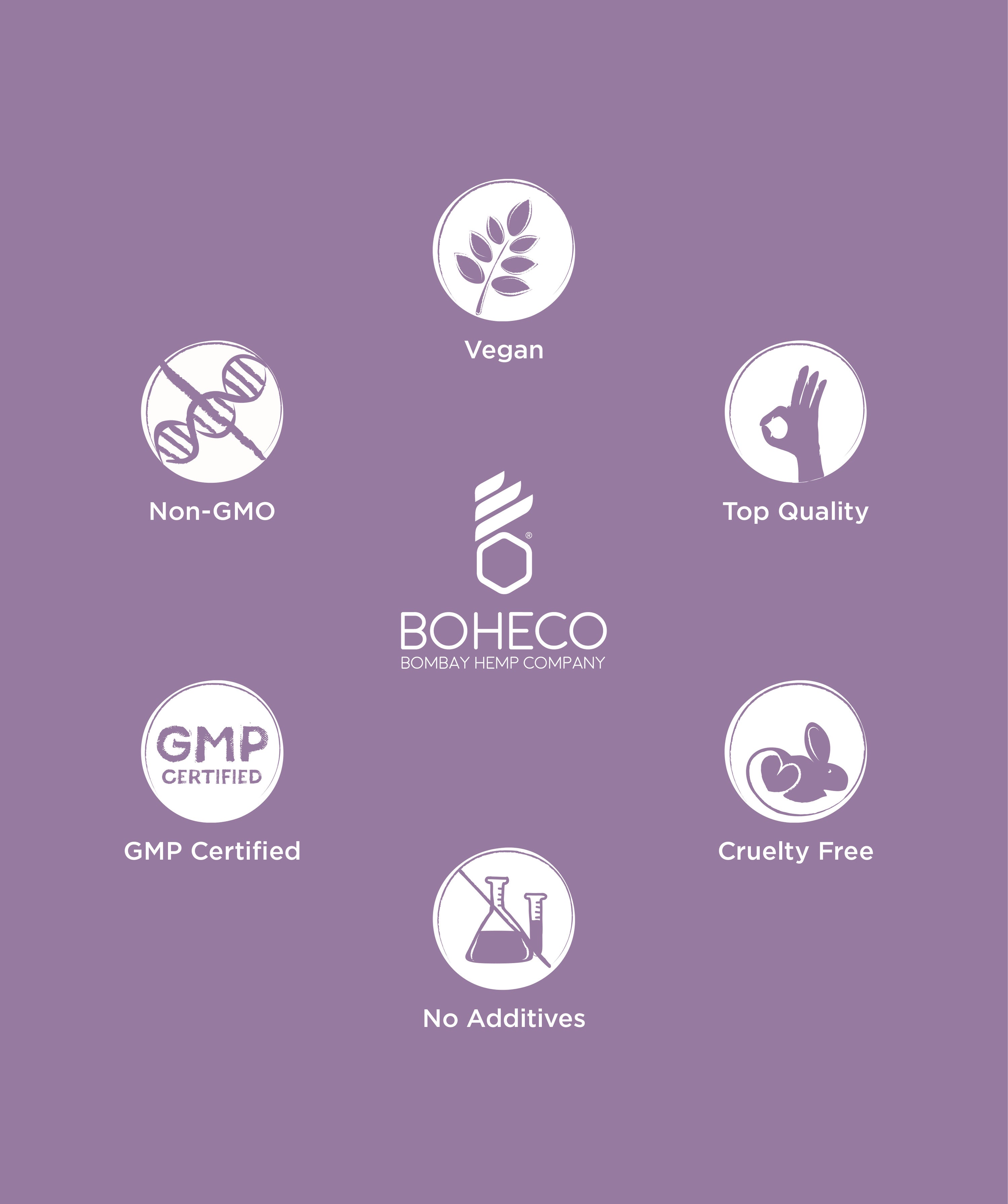 SLEEP
Improved!
Soothes Insomnia
Fennel - 30 ml
₹3,449
Inclusive of all Taxes (GST)
Subscription • Save
Description
Delivery Policy
SLEEP is a proprietary Ayurvedic formulation which works on the body's Endocannabinoid System (ECS) to mitigate stress & sleep disorders. Sourced from the fields of India, BOHECO SLEEP comprises full spectrum cannabis leaf extract with each 1 mL containing ~22.5 mg of major cannabinoids in a 1 : 2 ratio (~7.5 mg CBD) along with other minor cannabinoids (CBG, CBN, etc.), which provides natural healing for symptomatic pain relief.

BOHECO SLEEP, available in two delicious flavours, is the perfect fit for you if you are suffering from any stress and /or sleep disorder(s). The major cannabinoids in the tincture combine with our body's CB1 and CB2 receptors to enhance mood, promote sleep, calm the mind, stimulate appetite and reduce stress.
🩺 Disclaimer: This is a prescription based ayurvedic medicine. Please note, you will be required to either share a prescription (not older than 120 days from the date of issue) from a certified medical practitioner OR go through our internal consultation process.
We want you to get started on your journey as soon as possible! So, we will try our best to dispatch your order within 48 hours! Appreciate your patience.

Plant-Based

Non Toxic

No Additives

Non-GMO

Cruelty Free

Top Quality Trusted Products

Good Manufacturing Practices

Rooted in Ayurveda
BENEFITS
The compounds present in the Vijaya leaf extract increase the levels of endogenous cannabinoids which in turn help reduce stress by promoting CB1 binding by the endogenous cannabinoids. Further, a proprietary blend of Tagar (Valerian), Jatamansi (Spikenard), and Musta (Nut Grass) delivers calming effects. Valeranone and Valepotriates are present in Tagara and Jatamansi. Valepotriates are responsible for the sedative and calming effect. It inhibits the enzyme-induced breakdown of GABA in the brain resulting in sedation and relief of stress. It is believed that phytochemicals present in Cyperus rotundus can act as monoamine oxidase (MAO) inhibitors and produce significant anti-depressant effects.
Vijaya has been used for centuries as a sleeping aid and in managing insomnia. The main benefits of Vijaya as a sleeping aid are attributed to anxiolytic and analgesic effects. The hypothesis is that Vijaya reduces the amount of REM sleep which is when the mind is dreaming. Deep sleep is different from REM sleep and is thought to be responsible for the most restorative sleep. Vijaya reduces the amount of time spent in REM sleep; therefore, it increases the time spent in deep sleep.  A proprietary blend of Tagar (Valerian), Jatamansi (Spikenard), and Musta (Nut Grass) delivers calming effects and thereby aids in sleep.
Phyto-cannabinoids interact with the CB1 receptors as exogenous ligands. The endogenous ligand that is anandamide (AEA), binds to the CB1 receptor and alleviates feelings of anxiety and depression but, the lifespan of AEA is short-lived and is degraded by enzymes. Phytocannabinoids, on the other hand, prevent the breakdown of endogenous AEA by inhibiting AEA degrading enzymes.
Hormones like cortisol are produced in the body when humans face stress or stressful situations. If these hormones go unchecked, they can wreak havoc on the human body, causing long-term effects like strokes. Compounds in the hemp leaf extract have highlighted positive effects in producing relaxation for the individuals concerned by reducing the levels of these hormones like Cortisol, Adrenaline, and Norepinephrine which reduce the levels of stress. A proprietary blend of Tagar (Valerian), Jatamansi (Spikenard), and Musta (Nut Grass) delivers calming effects and thereby promotes relaxation.
HOW TO USE
This medicine is most effective when taken sublingually (under the tongue) after food. Use the dripper provided along with the bottle to extract the recommended amount. Shake well before use.
Consume 2-3 drops twice a day after food. Please adhere to the dosage recommended by your physician. It is recommended that one begins with a low dosage and gradually increases the dosage over time. *Average treatment period for at least 90 days (about 3 months).
Vijaya* Leaf Extract, Vijaya* Seed Oil, Valerian Root Extract, Spikenard Root Extract, Nut Grass Oil and Sesame Oil
Flavouring Oil: Peppermint / Fennel *Vijaya - Cannabis Sativa Linn.
In the true nature of Ayurvedic formulas- it shows efficacy after disciplined and routine usage. Rooted in the Ayurvedic philosophy, we have provided you with a product that includes cannabis in its natural form with the full spectrum of (plant-based) Phyto-cannabinoids, that allows for sustained healing and well-being.
Keep the bottle in a cool, dry place away from sunlight.
1. NOT RECOMMENDED FOR PREGNANT OR BREAST-FEEDING WOMEN.
2. PLEASE STUDY THE PRODUCT AND INGREDIENTS CAREFULLY. DISCONTINUE IF YOU HAVE AN ALLERGIC REACTION WHEN CONSUMING.
3. PLEASE CONSULT A DOCTOR IF YOU ARE SUFFERING FROM HEART CONDITIONS BEFORE CONSUMING OR ARE UNDER ANY OTHER FORM OF MEDICATION/TREATMENT BEFORE CONSUMING.
4. THIS MEDICINE SHOULD BE TAKEN ONLY AFTER A MEAL.
5. DO NOT CONSUME WHILE UNDER THE INFLUENCE OF ALCOHOL. NOT TO BE CONSUMED BY CHILDREN UNDER 18 YEARS OF AGE.
6. DO NOT CONSUME WHILE DRIVING/RIDING OR OPERATING MACHINERY.
Cannabinoids X Endocannabinoid System
Cannabinoids are natural compounds found in the leaves & flowers/bud of the cannabis plant. CBD (Cannabidiol) is one of the most studied and recognized chemical compound found within the vast profile of cannabinoids.

The Endocannabinoid System (ECS) is present in every human biological system. ECS is a cell signalling system comprised of molecules that act as neurotransmitters (CB1 and CB2 receptors) spread across the human body. Some of the processes this cell signalling system is responsible for are mood, inflammation, immunity, pain, stress, sleep, and appetite.
Phyto-cannabinoids bind with the CB1 and CB2 receptors found within the ECS. This interaction helps simulate the cell signalling system and aid regulation of the mentioned symptoms.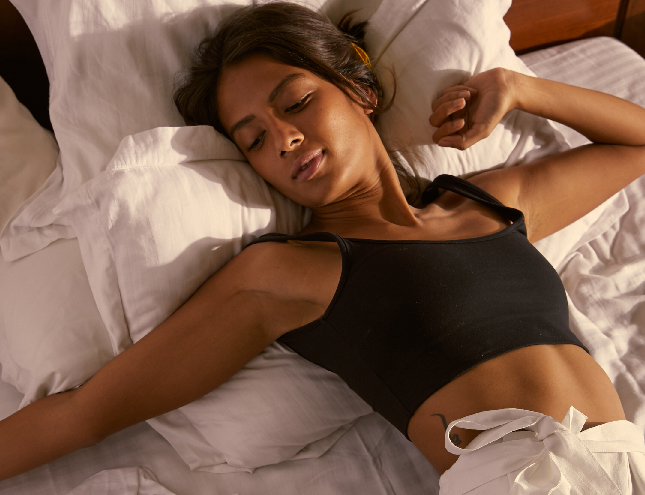 Our Cannabis leaf-based Health and Wellness Range is infused with full-spectrum Cannabis leaf extract. Backed by science and formulated by medical professionals, our proprietary ayurvedic offerings are rich in a variety of cannabinoids and other herbs which provide a targeted solution for your unique health and wellness needs. This range consists of various topical and prescription-based remedies for symptomatic relief through natural treatment.
Superb
All natural
No side effects
Calms down quick and pleasant sleep
It works well for treating my PMS symptoms and anxiety attacks. It may take a few weeks to improve the sleep routine. Dosage may differ for others. It's quite a safe and helpful product.
Sleep
I have struggled with secondary insomnia for years and tried all kinds of remedies and medications. Sleep has worked wonders for me. It's literally a godsent!
Great product and very helpful doctors
Calmness and Sleep
I am glad that I got the product very early. My sleep cycle was disturbed and stress level was increasing.
After taking the product now my day is much more calmer, positive and get great rest.
FREQUENTLY ASKED QUESTIONS
Does the Cannabis (Vijaya) leaf-based product range have full spectrum extract or broad-spectrum extract or CBD isolate?
• The Cannabis (Vijaya) leaf based product range is infused with Full-spectrum cannabis leaf extract, often called whole plant extracts. They contain a variety of cannabinoids, including CBD, CBDa , as well as terpenes and other compounds such as flavonoids, proteins, phenols, sterols, and esters.
• These extracts are desirable for several reasons. From an experiential standpoint, they replicate the flavour and aroma profile of the plant. From a therapeutic or medicinal standpoint, you get the full benefits of the entourage effect.

Is it legal to consume products with the Cannabis leaf Extract in India?
• As per government regulations, medicines containing any schedule E (1) ingredient such as the Cannabis Sativa leaf can be legally taken under medical supervision. All products meant for oral consumption can only be purchased against a valid prescription issued by a registered medical practitioner.
What is the Difference between CBD Oil & Hemp Seed Oil
• CBD oil is primarily derived from the flowers and/or the leaves of the Cannabis plant, whereas Hemp Seed Oil is derived from the seed of the Hemp (Cannabis) plant. CBD is majorly used in the wellness space, as its properties help in balancing the human body's ECS, thereby providing relief from pain, inflammation and anxiety caused by different illness/ailments. Hemp Seed oil is majorly used in the nutritional or cosmetics space, as it comprises of amino acids, Omegas, Vitamin E, anti-oxidants and minerals. Hemp Seed Oil does not have a similar medically therapeutic nature as CBD does. However, it is well renowned for the nutritional benefits it provides to the human body.
Is CBD present in Hemp seed Oil?
• No, CBD is not present in Hemp Seed Oil.
What is CBD?
• The term CBD is an acronym for Cannabidiol, one of the 113 phytocannabinoids derived from the Cannabis plant species. CBD as a compound is completely devoid of the intoxicating activity, whilst also exhibiting analgesic, anxiolytic, anti-convulsant, anti-inflammatory, antineoplastic and chemo-preventive properties.
Can CBD get me high?
• No, consuming CBD will not make you high. CBD is an antagonist of the CB1 Receptor, meaning it blocks or modulates the intoxicating effects. Thus, CBD in strong concentrations produces an uplifting or relaxing effect. It has no intoxicating value and does not get a consumer inebriated.
How does CBD work within my body?
• The effect of Cannabinoids like CBD on the human body can be determined through its interaction with the body's EndoCannabinoid system (ECS). When a person consumes CBD, it interacts with the ECS receptors throughout the body, particularly the CB1 and CB2 Receptors. These receptors are the signaling pathways for pain perception, anxiety, stress, and inflammatory responses. When it comes to interacting with the human brain, CBD has shown to stimulate serotonin pathways in the brain, thereby providing relief for anxiety, depression, and migraine symptoms. CBD also helps regulate the activity of glial cells (which provide support to the brain's neurons), bringing them back to a normal level.
What are some of the side effects associated with the consumption of medicines containing the full spectrum Cannabis leaf Extract?
• Although the consumption of full spectrum Cannabis leaf Extract is generally well tolerated by most consumers, there are a few minor side effects on a near-negligible scale which have occasionally been noticed in cases where more than the average daily recommended dose was consumed, such as :-
o Dry Mouth
o Diarrhoea
o Change in Appetite
o Change in Mood
o Drowsiness
o Nausea
o Increased levels of Liver enzymes
o
o However, such side effects are few and far between, with the number of consumers reporting positive effects drastically outweighing those reporting potential side effects

What is the EndoCannabinoid system?
• The EndoCannabinoid System is a biological system composed of endocannabinoids, which are endogenous lipid-based neurotransmitters that bind to the cannabinoid receptors, and cannabinoid receptor proteins that are present within the central nervous system (including the brain) and peripheral nervous system.
Is it possible to overdose on CBD?
• No, it is not possible to overdose on CBD. Consumption in high dosages may trigger occasional changes in mood & appetite.
What is the ideal dosage of CBD per day for a person?
• There is no exact ideal dosage of CBD per day for a person. Dosage is relative and depends on several factors such as body type, lifestyle habits, CBD tolerance, and the consumer's level of pain or discomfort. The type of CBD product and its concentration are other important considerations, since some products interact differently with the body than others.
How should products with CBD be stored?
• BOHECO's Cannabis (Vijaya) leaf based ayurvedic products should be stored in a cool & dry place, with minimum exposure to sunlight.
Can I give products with CBD to my Kids?
• Though products with CBD are being used by parents in different countries to help treat their child's seizures, pain, and even autism, it is advisable to consult a medical practitioner before giving CBD based products to your children.
Can I give products with CBD to my Pets?
• Though products with CBD are being used by pet owners in different countries to help treat their pets' health conditions, it is advisable to consult a veterinarian before giving CBD based products to your pets.
How long till one begins to notice effects of CBD within the body?
• CBD enters the system in about 20 minutes, if taken sublingually and up to two hours if taken via a capsule. • The results depend on an individual's physiology. Some patients experience immediate results, such as restful sleep, from the beginning, but in some cases, it might take two weeks to a month to experience the therapeutic effects. This depends on the reason behind consumption and recommended dosage.
View More
View Less